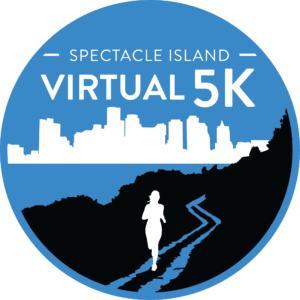 JUNE 13-14, 2020
SEE THE 2019 RACE RESULTS HERE
ABOUT THE RACE
Run, walk, or roll a 5K anyway you want! You choose the time, the views, and the surface. June 13th – June 14th run a 5K — you can get up early and run along the Harborwalk in South Boston, go out on your lunch break and jog or walk the sidewalks in your neighborhood, or get on your treadmill as the sun is setting and crank out 3.1 miles while you binge your favorite show. You do not have to be local to participate — challenge your friends and family wherever they might be. Registration is $20, and all proceeds will benefit Boston Harbor Now in our efforts to provide equitable access to Boston Harbor and Islands, and help improve lives of 40,000 youth and their families.
GETTING SIGNED UP
Sign up for the virtual

Spectacle Island Virtual 5K

on our registration site.

Look for an email from Boston Harbor Now for your fillable bib. You get to pick your number on your bib (up to 4 digits)! Open it in Acrobat, click in the middle, type your number, and print. Cut it out, pin it on, and you're ready to go.

Walk or run your 3.1 miles any time you want before June 30th.

Submit your results and we will send you your finisher certificate by July 10th.

Connect with us and the community before, during, and after your race.  Use the hashtag #spectacleisland5k on your social media account while training for this run, participating in this run, and when you complete this run!  We would love to see your pictures of where you are running whether that's in your home, our parks and trails, or around your neighborhood.
WHAT'S INCLUDED
Printable bib

Certificate of Completion

A ferry ticket to visit the Harbor Islands in the future

A free lunch from Boloco

Virtual race bag with goodies from our sponsors
TRACKING YOUR DISTANCE
There are many apps that can help you track your distance.  Here are a few recommended options:
Nike Run Club

Map My Run by Under Armour

Running Distance Tracker Pro

Runkeeper- GPS Running Tracker
HEALTH AND SAFETY GUIDELINES
from City of Boston and Esplanade Association
Massachusetts residents are required to wear a cloth face covering in public places, including while exercising
Remain at least six feet away from others (those who are not part of your immediate family or household).
Wash hands, utilize hand sanitizer, and cover coughs and sneezes with a tissue or your inner elbow.
Limit time in public areas and avoid congregating in groups.

Stay home if you feel sick, have a fever and/or are part of a vulnerable population

Respect all closures (playgrounds. Exercise course, courts, ball fields, etc.)
PATHWAY GUIDELINES
As always, please be kind, respectful and share the pathways

Always pass to the left, keeping at least six feet of distance

If you are not able to pass with recommended distance, please wait

If space is constricted, please yield to others and walk in single file when passing

Keep to manageable speeds and stay right to allow others to pass
*Courtesy of the Esplanade Association.
To report enforcement issues, please call Boston Police. For maintenance issues, please contact 617-635-4505 or 3-1-1.
OPTIONAL ROUTES ON THE HARBORWALK
South Boston – Route 1 (out and back)
South Boston – Route 2
Downtown – Route
Charlestown – Route
East Boston – Route
Virtual Backdrops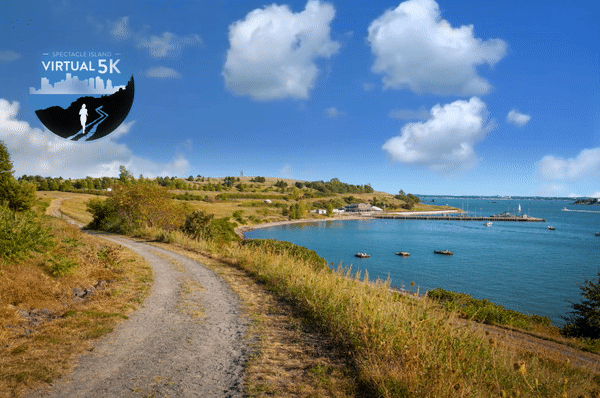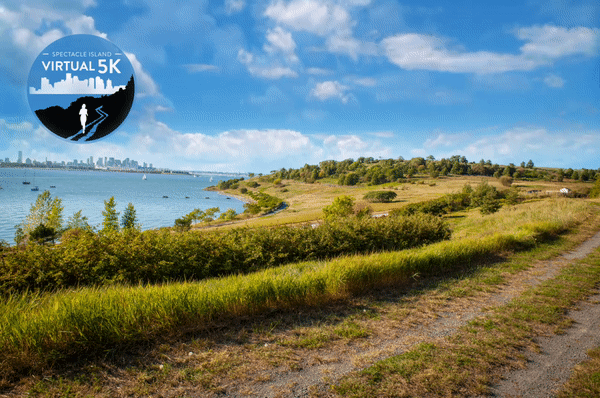 Spectacle Island 5K Results