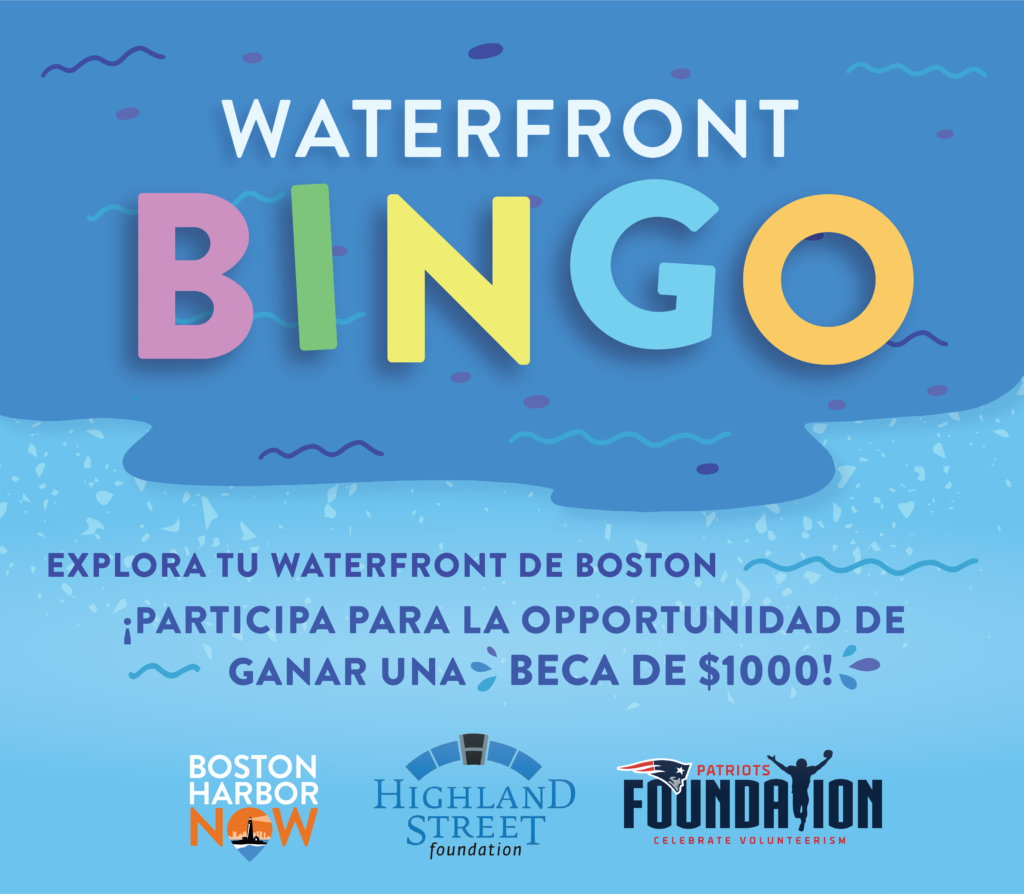 HOW TO PLAY:
Explora el malecón ("

waterfront

") de Boston, ¡y tacha las casillas a medida que avanzas! 

Tómate una foto con tu cartón de bingo junto a cada sitio o actividad, para que sepamos que la has completado

Publica tus fotos y el cartón lleno con la etiqueta #BHNBingo o envíalos por correo electrónico a bingo@bostonharbornow.org a más tardar el 19 de marzo de 2021

Cualquiera puede jugar, pero si eres un estudiante de 25 años o menos, ¡puedes participar para ganar!
REGLAS DEL CONCURSO
Inscríbete en la promoción publicando en Twitter, Facebook o Instagram tu cartón de bingo completamente lleno, con fotos de cada sitio visitado o cada actividad completada, en una sola publicación (sin historias) y usando el hashtag #BHNBingo, O enviando por correo electrónico tu prueba de haber llenado el cartón y las respectivas fotos a bingo@bostonharbornow.org. No se aceptarán las inscripciones enviadas por correo postal.
Los estudiantes de 0 a 25 años de edad califican, y cada estudiante puede participar una sola vez. Varios estudiantes de un mismo hogar pueden presentar cada uno un cartón lleno. Las inscripciones deben recibirse a más tardar a las 11:59 p.m. del 19 de marzo de 2021.

Se permite la participación de estudiantes de otros estados, quienes deben cumplir con todos los lineamientos actuales del estado de Massachusetts en cuanto a los viajes.

Se elegirán dos ganadores en un sorteo al azar, y se les notificará la semana del 22 de marzo de 2021. Los ganadores deberán reclamar sus premios a más tardar a las 12:00 p.m. hora del este del lunes 29 de marzo de 2021.

Los fondos se distribuirán en un Plan de Ahorro Universitario 529, que deberán abrir los ganadores (o su[s] representante[s]/tutor[es]).

Los ganadores necesitan autorizan a

Boston Harbor Now

y a nuestros socios para publicar con fines promocionales sus actividades referentes a este evento.

Los familiares inmediatos de los miembros del personal de

Boston Harbor Now

, la asociación de

Boston Harbor Islands National

y

State Park, The Highland Street Foundation,

o

The Patriots Foundation

no califican para ganar.
Si tiene alguna pregunta o necesita alguna aclaración, comuníquese con bingo@bostonharbornow.org.