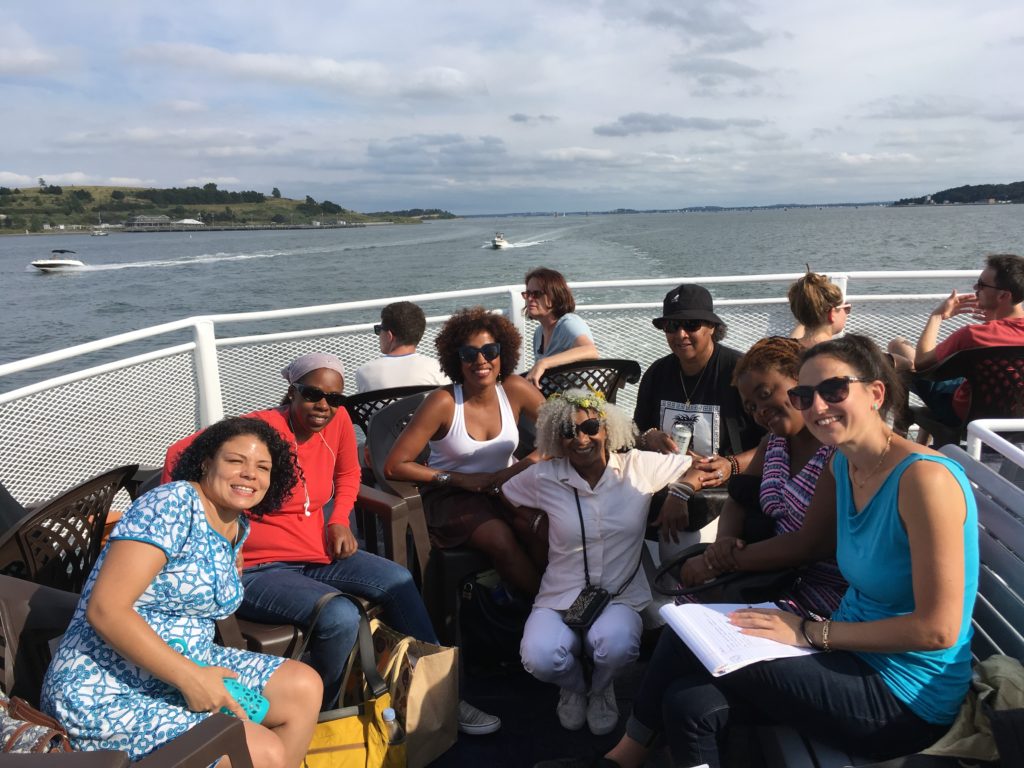 How can we encourage more socially inclusive public art and audiences?
This was the question that galvanized the group of women pictured above after last summer's Boston Harbor [Re]creation activities were kicked off by a boat ride to visit art installations on Peddocks Island.  It was a beautiful sunny day for the event, there were great snacks on board and different forms of participatory art experiences on board, including percussion, performance, a writing station, and an analogous camera exchange. The two Artists-in-Residents gave presentations about their upcoming projects on Spectacle Island. But the elephant in the room that often occupies arts spaces in Boston sat squarely on the boat. Among nearly 200 participants, you could almost count the number of people of color on the boat on two hands.  
As the organizer of the the event, I felt discouraged by this failure to engage a group of participants that was more reflective of the diversity of our region. Contracted by Boston Harbor Now to organize these public art initiatives, I worked in close collaboration with the National Park Service and the Department of Conservation and Recreation, to advance a shared goal that this arts initiative would be inclusive of a diverse community of artists and participants. The turnout of this event demonstrated to me that what we were currently doing wasn't working turning this dynamic around would take a more strategic effort. In an effort to recognize the contributions of everyone who helped make this shift, and to offer this experience as information for other white organizers working towards creating inclusive environments, I will unpack what transpired from last year to this one. Special thanks to Rhonda Gray, a Professor of English at Roxbury Community College, whose research interests are in African American history and culture and Black feminist theory, for having the generosity of spirit to raise these issues with me, and encourage me to write about my experiences.
After the 2017 event, Rhonda convened a group of women of color who shared a commitment to addressing this issue. The group included Marie Claire, who currently works at MassArt; writer Tuá Nefer, Professor of English at Bunker Hill Community College; and April Andrew, Artist and Educator. Sierra Khan, Director of Arts Mattapan and Mattapan Cultural Arts Development, who I had worked with during the outreach efforts for 2017 also joined the first few conversations. Sierra had emerged as a like-minded arts organizer, who was also seeking to use the arts to activate another body of water: the Neponset River through the arts. Together, we discussed visions of art along the Neponset connecting people to the Harbor, out of which these conversations came the tagline for the 2018 event "Upstream Downstream."  
We held the first meeting around my kitchen table. It was an honor to host this dynamic group to strategize how to support efforts to increase diversity in the Boston Harbor [Re]creation activities and to have been in the position to help bring their ideas to fruition. The group agreed on the following objectives:
Expand the pool of artist applicants to broadly reflect the diversity of our region

Inspire and support artists of color to prepare strong applications

Develop an application process that is more inclusive

Encourage more socially inclusive audiences to arts events
Out of this meeting came the action step of hosting  an event specifically for artists of color to learn more about the program. Within a month of the kickoff event, I worked in close collaboration with this group and with support from Boston Harbor Now to organize an information session and offer free tickets for participants to visit Spectacle Island. The group did a collective outreach effort to convene diverse artists for this opportunity to learn about the program, engage with one of the Artists in Residence, ask questions, engage with their art, explore the island, and talk to organizers about their ideas. The artists were able to enjoy a day on the island coming up with great art ideas while also working to address unequal representation in the arts. The energy generated during this visit to Spectacle Island in August would grow and unfold when the Call for Artists was released in the late Fall. In the Fall we hosted an RFP release event with targeted outreach to artists of color at the Commandants House at the Charlestown Navy Yard, and Artists from the previous summer shared their work. Artists could learn about the work that was created and get ideas for what to propose. These two events build trust among more artists and organizers of color that the program would and could be more inclusive, and encouraged people to share the Call and consider applying.  
Last year's Artists in Residence included two white male artists, and this year we have a male/female artist group, and two women, and one of whom is a woman of color. While our Artists in Residence last year created phenomenal work, the shift is reflective of this strategic work we did to increase to the pool of applicants and to voice a conscious commitment to increasing the diversity of our Artists in Residence. This weekend our Artists in Residence Kera Washington and Freedom Baird will have Open Studios events on George's Island. Kera's work, In the Harbor, Freedom Sings metaphorically traces the footprints of African and Native (Indigenous) Americans who walked on and in the Boston Harbor Islands. During her residency from August 6-20, Washington will compose songs and rhythms inspired by music that was written by early activists and abolitionists during and/or about pre-Emancipation Boston-based struggles for freedom. Through percussion workshops and public performances on George's Island, Washington will explore the messages in this music that are relevant today, and share this (new) music and creation with visitors to the Islands. This music and its messages of inspiration will speak to the continuing struggles for liberty that African and Native (Indigenous) Americans still experience today. Please come to George's Island this Sunday, August 19, from 2:00-4:30 for Kera's Open Studios!
In Freedom Baird's work, Shore Line Recall, the public is invited to record their experiences of the Boston Harbor Islands' lowest-lying areas which are in danger of vanishing with rise in sea-level caused by climate change. For each day of the residency, Baird will visit the most vulnerable areas of each island and set up The Human Nature Field Desk, a portable, weather-resistant desk where participants will create 2-D visual art and text to capture their impressions. These records will be bound into an archival volume which will serve as a document of future places long-gone. The public is invited to participate in the project and contribute to the art being created during each day of her residency: Georges Island Sunday Aug 19 (12:30am-4:30pm): Grape Island Monday Aug 20 (10am-3pm): Peddocks Island Tuesday Aug 21 (noon-3pm): Lovells Island Wednesday Aug 22 (11am-3pm): Spectacle Island Thursday Aug 23 (10am-2:00pm), and Bumpkin Island Friday, August 24, 10:00-2:30.
Some other key differences from one year to the next: An important distinction in our approach is that the Boston Harbor [Re]creation program shifted the framing of the initiative as an Arts and Culture initiative rather than just an Arts initiative. Recognizing that many people involved in cultural expressions, such as music and dance, do not consider themselves "artists," I engaged in a more inclusive approach to outreach and engaging people in conversations about participating in the 2018 Artist in Residency program and the kickoff celebration. The advisory group had contributed names to the outreach list, making it more robust.
In the 2017 kickoff celebration, performing artists were selected from the pool of applicants whose proposals would be adapted for the boat ride. Artists included two latina-led artist groups, a white female performer and a while male performing photographer. In contrast, the artist lineup for the 2018 kickoff celebration was designed to reflect the arts and cultural expressions that flow along the many waterways into Boston Harbor, and participating artists were selected in a more curatorial approach. Headliners included The Veronica Robles All-Female Mariachi Band, who represented the Chelsea Creek, Cornell Coley's Community Drum Circle, representing the Neponset River, Zili Misik, whose music is designed to bridge cultures, continents, and generations. Twelve other groups presented arts and culture activities and performances, including youth artists hailing from all over Boston. The list of participating artists grew organically out of a shared vision of creativity flowing downriver and being held on a boat, where all of this expression would be shared and celebrated. The group of participating artists each received tickets and flyers to distribute to their networks of fans, fellow artists, and culture workers, and as a group we discussed the transformative potential of this event, and planned an outreach strategy as a group. The resulting audience on the boat, about 800 people, reflected their diversity and energy. Many people on the boat described it as the most diverse arts event they have ever been to, both in participating artists and audiences.
Thanks to the generosity of our sponsors and Boston Harbor Now's commitment to the project, the boat ride was offered for free, as opposed to last year, when tickets cost $25. The budget for participating artists also doubled. Special thanks to Reynders McVeigh and Fresh Pond Capital who played a major role in increasing our capacity through their support.
There is still so much work to do but we are headed in the right direction for this initiative by sustaining an arts and culture community as diverse as our city. It's encouraging that people like Rhonda, Sierra, Marie Claire, April, Tua and were willing to address the elephant in the room with an organizer like me. As a white woman, seeking to cultivate more inclusive arts spaces, I recognize that I have had and will continue to have blindspots that will come up in doing this work, and, while by no means do I expect it, I majorly appreciate when others help make those more visible to me so that I can correct them. Boston Harbor Now, the National Park Service and Department of Conservation and Recreation have been incredibly supportive partners and demonstrate pride in this collaborative effort, committed to growing this initiative and others like it, and allowing this inclusive and collaborative spirit to lead the way. I am so fortunate to work as part of a team that recognizes the importance of preparing fertile ground through projects like this to create systemic change.
---