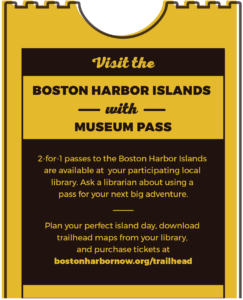 Visit the Boston Harbor Islands this summer with a 2-for-1 pass from your participating local library!
Use your local library branch as your portal to the Boston Harbor Islands National and State park. Dozens of libraries feature "trailheads" that include step by step directions using mass transit to the Boston Harbor Island ferry at Long Wharf North. Look below to find your library! Each of these locations also features buy-one-get-one discounts on ferry tickets throughout the season. See you on the islands!
Check out for following links for more details about the Trailhead program:

For any further questions, visit our FAQ page, contact BOHA_information@nps.gov or call 617-223-8666 to connect with a ranger!