Ready to make a difference? Lend a hand in your parks!
Help Boston Harbor Now, alongside the Boston Harbor Islands National and State Park, preserve and protect our islands' natural and cultural resources so that visitors can enjoy these special places for generations to come!
Opportunities are available for both individual and group volunteers. Roll up your sleeves working alongside our Natural Resources Team maintaining island trails and important habitat areas, or work side by side with Park Rangers to welcome visitors and answer questions. No previous experience is required and all training, tools, and leadership is provided.
Whether you are volunteering for a single event, lending your time throughout the season or participating in a group service day, your contribution to the park is greatly appreciated!
Stewardship Saturdays
One of the easiest ways to get involved is to join us for a Stewardship Saturdays trip. Work alongside park staff clearing invasive species, improving trails, and protecting important habitat areas. Check the park calendar for regularly scheduled events offered year-round.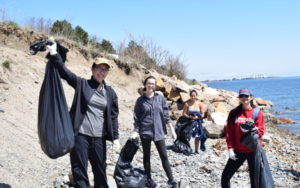 Volunteer as an Individual
Help offer information at island visitor centers, assist our natural resources team with invasive species management or help out at special events. There are so many ways you can make a difference!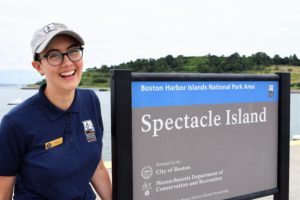 Volunteer as a Group
Is your workplace or community group looking to plan a fun and meaningful day of service? We can help match your group with volunteer opportunities in the park. Contact us to learn more.