October 2012′ s Superstorm Sandy marked a turning point in awareness of the threats of climate change-related coastal flooding. Since then, Boston Harbor Now has led efforts to understand Boston's risks from sea level rise and opportunities to solve other pressing concerns as we protect the city from flood damage.
Projected Coastal Flood Maps for Boston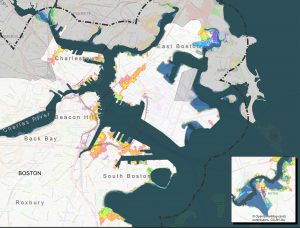 These maps were created for the Central Artery/ Tunnel (CA/T) Vulnerability and Adaptation Assessment, completed in June 2015 for the Massachusetts Department of Transportation.  They represent the same data, flood model and scientific team as involved in the Climate Ready Boston maps, but include more site-specific details.
3D TOUR OF BPL CLIMATE MAPS EXHIBIT
Climate Ready Boston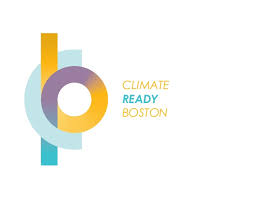 Boston's climate preparedness was substantially advanced through collaboration among the City of Boston, local foundations and UMass Boston that resulted in the release of Climate Ready Boston in 2016. Climate Ready Boston uses cutting edge research and modeling to provide the City with the information needed to develop consensus climate projections, a city-wide vulnerability assessment and proposed next steps.
Climate Ready Boston became a central priority of Imagine Boston 2030, Boston's first city-wide plan in over fifty years. We now have an extraordinary opportunity to help shape how the city implements climate resilience to enhance quality of life and equity of outcomes while maintaining our current economic vitality and preventing coastal flood damage.  DOWNLOAD REPORT
Climate Communications
Boston Harbor Now staff frequently give media interviews and public presentations on how sea level rise is projected to affect Boston and solutions other cities are using to increase livability and decrease flood damage risks.
Boston Area Climate Research
For an excellent compilation of Boston-area climate preparedness reports, go to Climate Ready Boston and scroll down to "Library of Previous Studies."
NOAA on the Science of Sea Level Rise