Boston Harbor Now's staff and Board were thrilled to welcome more than 550 friends and supporters to Spectacle Island—including special honored guest Kim Driscoll, Massachusetts' Lieutenant Governor—on the beautiful, warm night of September 14 for our premier annual fundraising gala and celebration of the harbor, "Spectacle on Spectacle."
Kim Driscoll, the Mayor of Salem, Massachusetts until being elected as Governor Maura Healey's Lieutenant Governor, was cited for her staunch advocacy of regional ferry transportation, coastal resilience, and environmental initiatives vital for the health of the Commonwealth and its people. A comfortable and inviting new Adirondack chair was commissioned at Spectacle's pier in Lieutenant Governor Driscoll's name, to offer a welcoming seat to island visitors for years to come.
Spectacle Island had a long and troubled history as a city dumping ground before being remade as a verdant jewel of a park with the placement of over 9 million cubic yards of fill excavated during Boston's 1991-2005 Big Dig. Alluding to that historic metamorphosis, Driscoll told attendees: "We believe that transformational opportunities exist in Massachusetts (look at where we are!) but we know we need to do more and leave it better than we found it … We have all the ingredients in our state when it comes to leading in climate technology and resilience."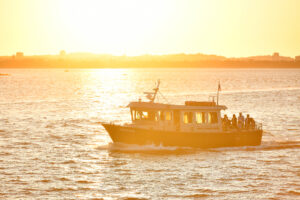 One great, driving hope of the Healey-Driscoll Administration, Driscoll added, is that "When our grandkids ask us: 'What did we do about the climate crisis?'–We have some really good answers."
During a brief speaking ceremony, Boston Harbor Now CEO Kathy Abbott noted that during the seven years since the organization was established by the merger of The Boston Harbor Association and The Boston Harbor Island Alliance, Boston Harbor Now, with the help of our partners, has raised more than $20 million to support the harbor and its state and national parks, including $1 million raised by this year's Spectacle on Spectacle alone. The organization has over those seven years also helped more than 250,000 people visit the islands. That's comparable to the total combined population of the Boston neighborhoods of Charlestown, Dorchester, East Boston, Roxbury, and Mattapan.
The Lieutenant Governor generously thanked the organization for all it has done to make Spectacle, the rest of the harbor islands, and the harbor and waterfront vibrant, welcoming, and resilient. "None of this is possible without Boston Harbor Now," Lieutenant Governor Driscoll said. "Thank you for the incredible work you do!"
Boston Harbor Now also wants to thank our many, many sponsors who helped make this night of food, fun, live music, and a picture-perfect sunset over the water so memorable, particularly our title sponsors: Boston Harbor City Cruises, CBT Architects, Charter Development Company, and Eastern Salt Co. Please visit https://www.bostonharbornow.org/spectacle/ for a complete list of sponsors.
---