Free public events for all ages in historic Charlestown Navy Yard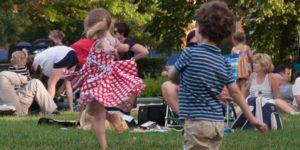 SUMMER CONCERTS
with Berklee College of Music
Thursday Evenings at 6:00 PM
June 27 – August 1
with Charlestown High School Band
7/18, 7/24, 8/1 starting at 5 pm
Featuring live music from from Berklee College of Music and fun for the whole family presented by Knucklebones, including lawn games, and face painting! National Park Rangers will also be providing history interpretation.
Register at: https://www.eventbrite.com/e/summer-concerts-at-charlestown-navy-yard-tickets-63992149241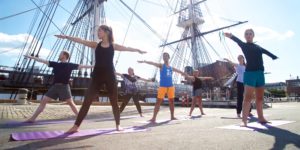 OLD IRONSIDES YOGA
with Yoga Around Town
Wednesday Evenings at 6:30 PM
July 3 – August 28
Enjoy Boston's most unique all-levels vinyasa flow while overlooking the spectacular views of the sun setting over Boston in Charlestown Navy Yard. Each class will have you moving, breathing, and working up a sweat for 60 minutes taught by a yoga instructor from Yoga Around Town.
Register at: https://www.eventbrite.com/e/harborfit-old-ironsides-yoga-registration-61277592930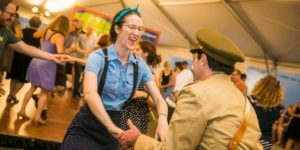 SWINGIN' SUMMER NIGHTS
with Boston Swing Central
6:30 PM – 8:30 PM
July 13, July 20 and July 27
Join Boston Swing Central in the Charlestown Navy Yard for an evening of FREE music and swing dance classes as the sun sets over the USS Constitution and the City of Boston Skyline.
Register at: https://www.eventbrite.com/e/swinging-nights-in-the-yard-tickets-64278291099