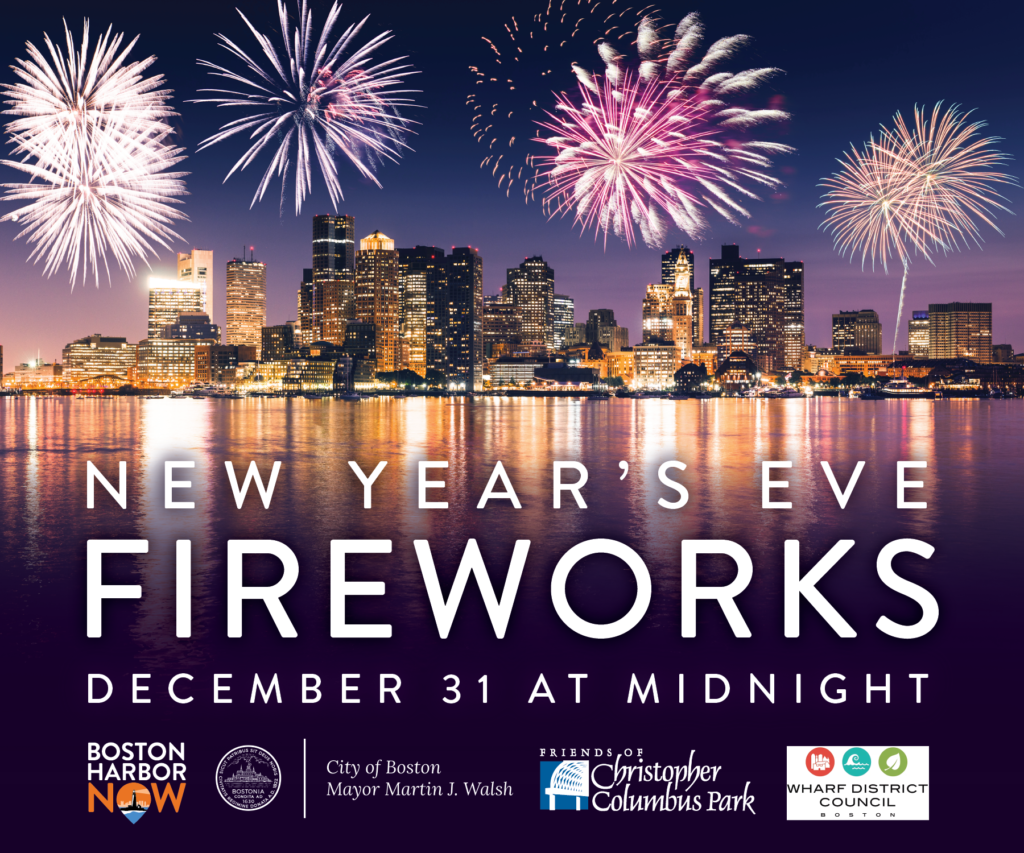 For the 7th year in a row, Boston Harbor Now is hosting a fireworks celebration unlike any other… right over the beautiful Boston Harbor skyline, where a
ll are welcome!
Thanks to our partners at the Office of Mayor Martin J. Walsh and the City of Boston, Friends of Christopher Columbus Park and the Wharf District Council — and with support from our generous donors and sponsors — we are able to create a memorable evening to close the summer out with a bang!
Our New Year's Eve fireworks celebration is just one more way we are working hard to bring our city closer together — while inspiring everyone to face forward towards the future of the Boston Harbor — to create a more connected, resilient public resource that is welcoming to all.
With your support, we are able to continue offering waterfront programming that stays in our hearts long after the smoke settles.
Please share your support, if you can, by donating below:

When: December 31, 2019 11:59pm
Where: Boston Harbor with suggested viewing locations at Christopher Columbus Park, Fan Pier, and East Boston Harborwalk
---
Who We Are:
As part of Boston Harbor Now's continued mission to make Boston Harbor, the Boston Harbor Islands National and State Park and Waterfront vibrant and accessible world-class destinations, "Illuminate the Harbor" is a celebration of another successful season of public programming along one of the nation's most beautiful harbors.
Join us as we welcome new residents and students to the city, embrace current neighbors and visitors, support local businesses, highlight and explore all of the great amenities that make Boston Harbor a fantastic place to live, work, play, eat and shop.

****
SPONSORS
Illuminate the Harbor Fireworks are made possible by the generous support and contribution of our sponsors:
Patron Sponsor
Conti Foundation
Community Sponsors
Boston Harbor Hotel
Boston Marriott Long Wharf Hotel
Friend Sponsors
Entertainment Cruises
Boston Yacht Haven
Fan Pier / CBRE
Hyatt Regency Boston Harbor
Massachusetts Convention Center Authority
Seaport Hotel & World Trade Center
Battery Wharf Hotel
Boston Waterboat Marina
Harborside Inn
Massachusetts Port Authority
Commonwealth Seminar
Battery Wharf Hotel
Boston Harbor Cruises
Boston Harbor Shipyard and Marina
Boston Sail Loft
Representative Aaron Michlewitz
State Street Provisions
Special thanks to Atlas PyroVision Entertainment and the City of Boston.
****

You too can support the Illuminate the Harbor Fireworks Fund by donating or sponsoring us here.