UPDATE (8/17/23): Boston Harbor Now
will not

be hosting the 'Illuminate the Harbor' fireworks this year, 2023. These harbor fireworks have in the past been one of many public programs that Boston Harbor Now offers throughout the year to welcome Greater Boston residents and visitors to the waterfront.
In future years, we'll continue to consider options to host or partner with other organizations on a pre-Labor Day fireworks display and/or other harborfront welcoming events for the holiday weekend.
---
9th Annual
Illuminate the Harbor Fireworks Celebration
NOW on Friday, September 3, 2021, at 8pm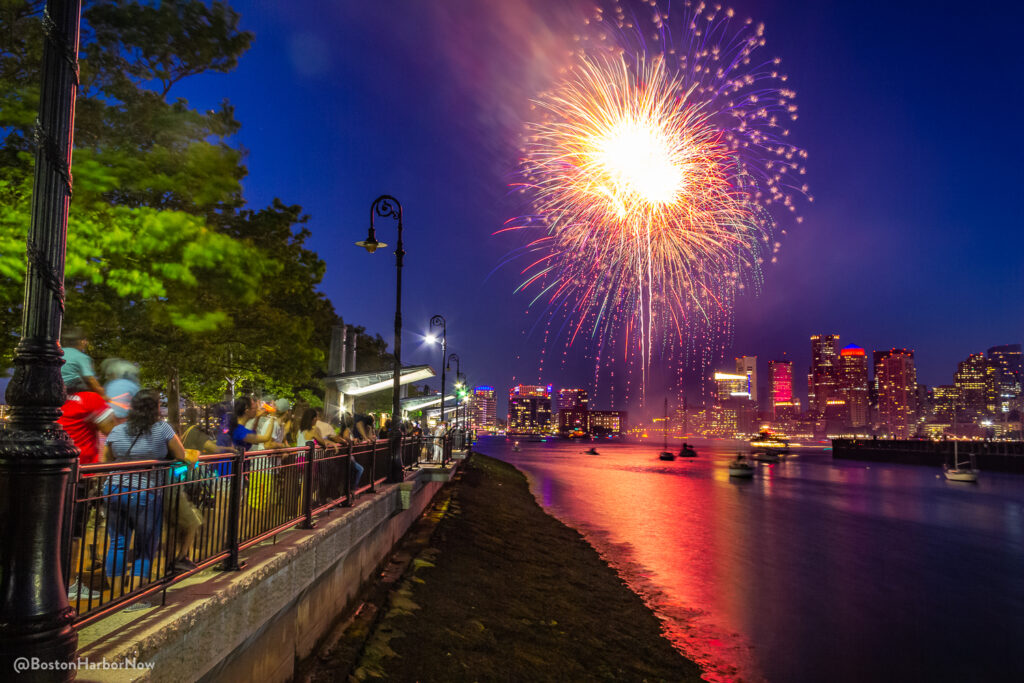 Celebrate with Us!
Boston Harbor Now is proud to announce the return of our Illuminate the Harbor fireworks spectacular! This special end-of-summer display invites everyone down to Boston's waterfront to experience the wonder of Boston Harbor illuminated after dark with a colorful fireworks show. As our community recovers from the impacts of Covid-19, we could not be more excited to bring back this celebration that is a symbol of joy for so many across Boston's waterfront communities. Join us for a special evening of free, outdoor enjoyment for people of all ages, and celebrate all the waterfront has to offer!
Scroll down to learn more about pre-show programs including "Chalk the Walk" artist illustrations across three waterfront neighborhoods, and traveling brass band performances by School of HONK!
Harbor fireworks are brought to you in part with support from L.L. Bean and presented in partnership with Boston Harbor Now, Atlas PyroVision, the City of Boston, Friends of Christopher Columbus Park, L.L. Bean, and Wharf District Council.
Who We Are:
As part of Boston Harbor Now's continued mission to make Boston Harbor, the Boston Harbor Islands National and State Park and Waterfront vibrant and accessible world-class destinations, "Illuminate the Harbor" is a celebration of another successful season of public programming along one of the nation's most beautiful harbors.
Join us as we welcome new residents and students to the city, embrace current neighbors and visitors, support local businesses, highlight and explore all of the great amenities that make Boston Harbor a fantastic place to live, work, play, eat and shop.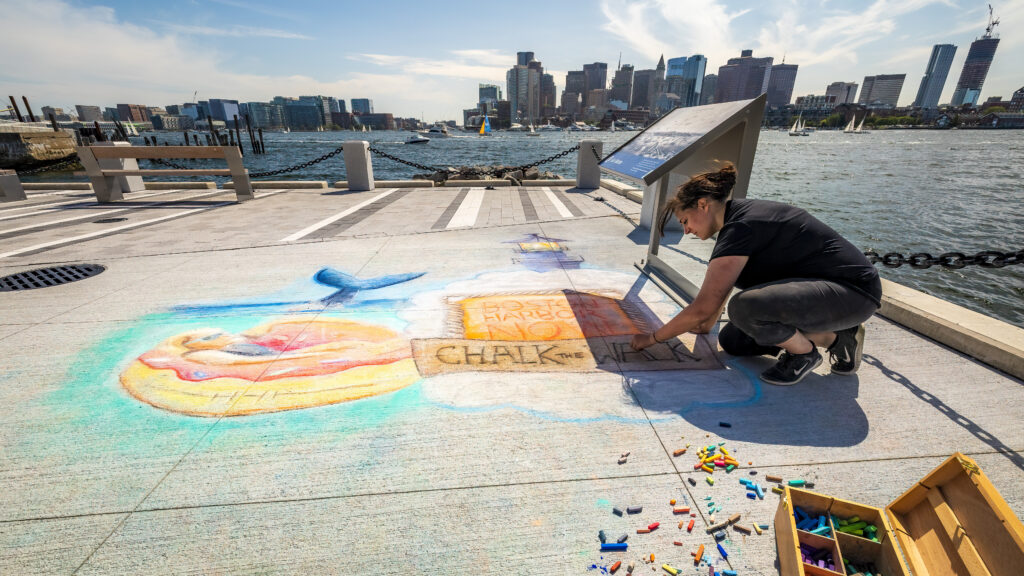 Join us on the Boston Harborwalk before Illuminate the Harbor for our first Chalk the Walk event featuring mini sidewalk chalk art murals created by both local artists and you! This family-friendly event will leave you in awe of the talent and creativity of over 10 professional chalk artists from all over Massachusetts hosted by businesses and cultural sites across the waterfront. Some locations will provide chalk for you to leave your own mark, as you Chalk the Walk!
Get your camera ready to start strolling during this FREE, fun, and safe waterfront excursion. A lineup of over 10 unique mini chalk murals will be on display from 3:00 – 8:00 pm on September 3rd.
Confirmed Locations
Charlestown Navy Yard* featuring artist Aliyah Saldana-Oswald
Piers Park in East Boston with Piers Park* and The Trustees featuring artist Gabriel Fernandez
The Tall Ship Boston featuring artist Amber Torres
Christopher Columbus Park featuring artists Helio Pacheco and Amy Reyor

REI presents at the

Boston Harbor Islands Welcome Center* featuring artist Rocky Cotard
International Place featuring artist Max Pro
Seaport Common featuring artist Jordan Carter
One Seaport Courtyard featuring artist Curtis Williams
The Seaport Hotel featuring artist Kelly Gilmore
Atlantic Wharf featuring artist Keshia DeLeon
* Public participation is encouraged!
Music and other pre-fireworks activation
Join the celebration before the fireworks showtime in one of our three recommended viewing areas at Fan Pier in the Seaport, Christopher Columbus Park and Piers Park in East Boston.
Zumix at Piers Park
6:00 – 8:00 pm
Don't pack up that picnic blanket just yet!  Pack a picnic and join Zumix for a final Summer Concert at Piers Park as East Boston celebrates the return of Illuminate the Harbor.
CANCELED DUE TO WEATHER – Honk on the Harbor
7:00 – 8:00 pm at Long Wharf
School of HONK will descend upon the Boston Harborwalk filling the Waterfront with music!
Stomp your feet to the infectious beat of New Orleans jazz, swing, and big band music brought to you by Boston's favorite community brass ensemble. Meet the band at the Harborwalk in front of the New England Aquarium as they process down the Harborwalk towards Christopher Columbus Park.  
Learn more about School of HONK
Getting Here
Chalk the Walk murals are located close to transit stations across all major subway lines. Visit Courthouse (Silver Line), Aquarium (Blue Line), Maverick (Blue Line), Haymarket (Green / Orange Lines) or South Station (Red Line) for a short walk to murals and the Boston Harborwalk. Check out the MBTA website for service information.
*All events are free and open to the public, weather permitting, and subject to cancellation without prior notice. All events will follow CDC guidelines for the health and safety of staff and guests.