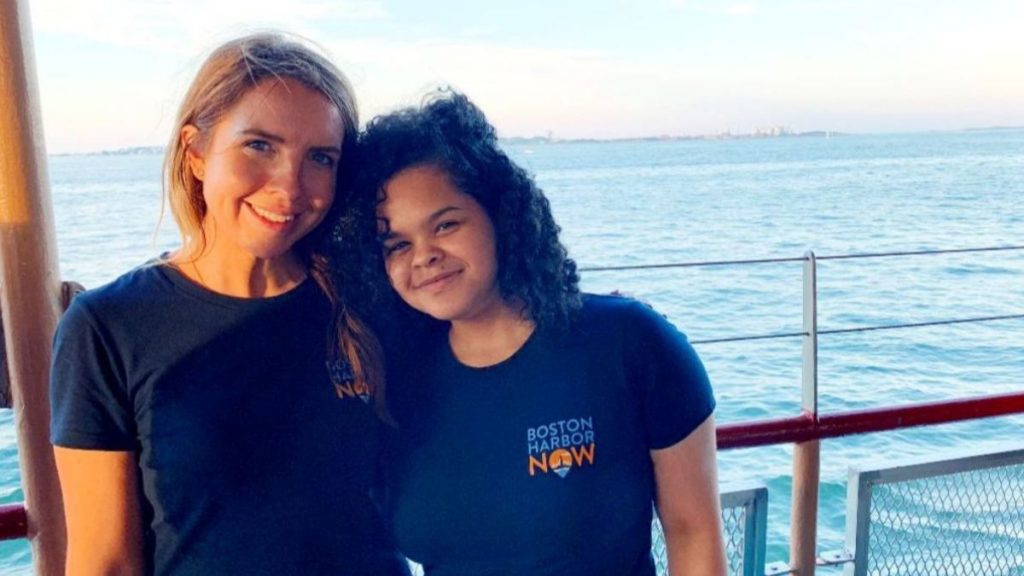 Meet Airalis, a high school junior in Boston and volunteer at Boston Harbor Now's Community Cruises. Thank you for enriching the lives of people like Airalis through Boston Harbor Now's free Community Cruises. Now she feels a stronger connection with Boston Harbor and is an advocate for greater public access and climate resilience for our waterfront.
Tell us a little bit about yourself.
My name is Airalis Colon. I am 16 years old and a junior in high school. I am from Puerto Rico. I moved to Boston five years ago. 
What did you love most about living in Puerto Rico?
My favorite thing to do was to visit my uncle, and other family. I lived in San Juan and they lived in Ponce and I would visit them there. Ponce is a beautiful place, there is a beach, and a place called Paseo Tablado La Guancha, a boardwalk with small vendors and shops. They also sell Puerto Rican food, which is VERY GOOD! At the beach there are fish and boats, you can even buy food and feed the fish!
How did you get connected to Boston Harbor Now? 
My mentor started working there, and I visited the office, I met her co-workers and they encouraged me to volunteer! 
Tell us about your volunteer opportunity.
I went to the Seaport, and I had no idea what it would look like. I worked on a Community Cruise for the Latinx community. I helped with the line and with translating.
Going on the boat reminded me of being in Ponce, but the weather and the water are very different in Boston. The Seaport is beautiful, and the funny part is now I work in the Seaport at Nutter!
Have you been back to Puerto Rico since Hurricane Maria? What was it like?
Yes. In December 2017, I went back to visit my grandma. The city where I'm from, San Juan was very different. There was no electricity, all the trees had fallen, and cars couldn't get around because the traffic lights didn't work. I had to stay with my aunt because my grandma had no electricity. They are doing well after this winter's earthquakes.
Do you think about climate change and the ways in which it affects Puerto Rico? 
Yes, since the economy is not good there how will Puerto Rico prosper if there is not a lot of money and these things are happening? In Puerto Rico we have to import a lot of things in order to survive already.
How did you feel when you saw that your new job was in the Seaport?
On my first day I went to the conference room at Nutter. The office is beautiful. I looked out and saw the water and the boats. I realized I had worked on the cruise there already. I told my supervisor I already knew the area because of the Community Cruise. I felt good because I knew the Seaport. 
Why do you think it is important that people have access to Boston's waterfront? 
I feel like giving people the opportunity to be on the water is awesome. A lot of people come to Boston without knowing the city, they don't know English, because that was me when I moved here. These people would not know the Seaport, but if you give them the opportunity to see what Boston looks like they will love it. It made me want to explore other parts of Boston even more.

---