Do you enjoy watching ships come into the Port of Boston or going for runs along the waterfront? Access to the water's edge is more than a nice perk of the Boston Harborwalk, it's a legal right established by the "public trust doctrine" dating back to the colonial era that was further codified by the Public Waterfront Act (commonly known as "Chapter 91").
In December, the Conservation Law Foundation published a 28-page handbook outlining the various laws and processes that govern waterfront access and development as well as how people can get involved in the planning and permitting processes. The People's Guide to the Public Waterfront Act is a user-friendly technical document structured to help members of the public navigate the legal jargon and official processes that have shaped, and continue to shape, the Harborwalk and the buildings along it.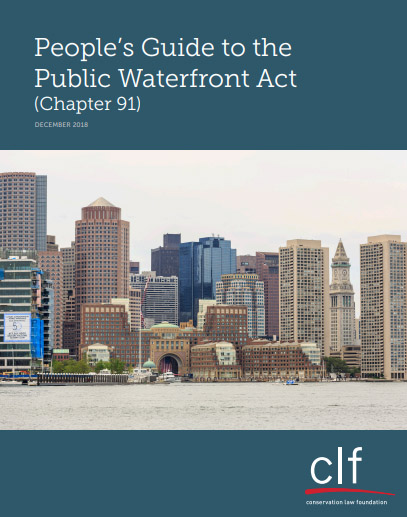 The People's Guide covers key vocabulary (a pile field is an array of posts driven into the ground in a tideland to support structures from docks to buildings), a bill of rights for the waterfront (you have access to all of the waterways licenses that govern each of the Chapter 91 properties), and the basics of the Public Waterfront Act. For individuals who want to get involved in local planning processes, there are steps for tracking and commenting on licenses, management plans, and municipal harbor plans.
Whether you want to know where you're allowed to fish or how to advocate for more public amenities and programming, this guide has information for you.
To find existing amenities along the waterfront from public restrooms to observation decks and to access Chapter 91 licenses, visit Boston Harbor Now's Harborwalk web tool.
---