Count down to 2021!
Our signature Waterfront Ice Sculpture Stroll is back! Get ready to count down to 2021 with over a dozen ice sculptures hosted by businesses and cultural sites across the waterfront.
Get ready to don your winter boots and start strolling during this FREE, fun, and safe waterfront excursion. A lineup of over a dozen unique ice sculptures will be on display from 1:00pm – dusk on December 31, 2020.
Follow the Ice Sculpture Stroll to over a dozen sites from 1:00pm – dusk on December 31, 2020.
Enjoy other waterfront sites and activities along the way such as:
As a non-profit led initiative, this celebration is a culmination of eight successful years of free and low-cost waterfront programming for residents and visitors across Boston's waterfront neighborhoods. Click here to support our work.
ICE SCULPTURE STROLL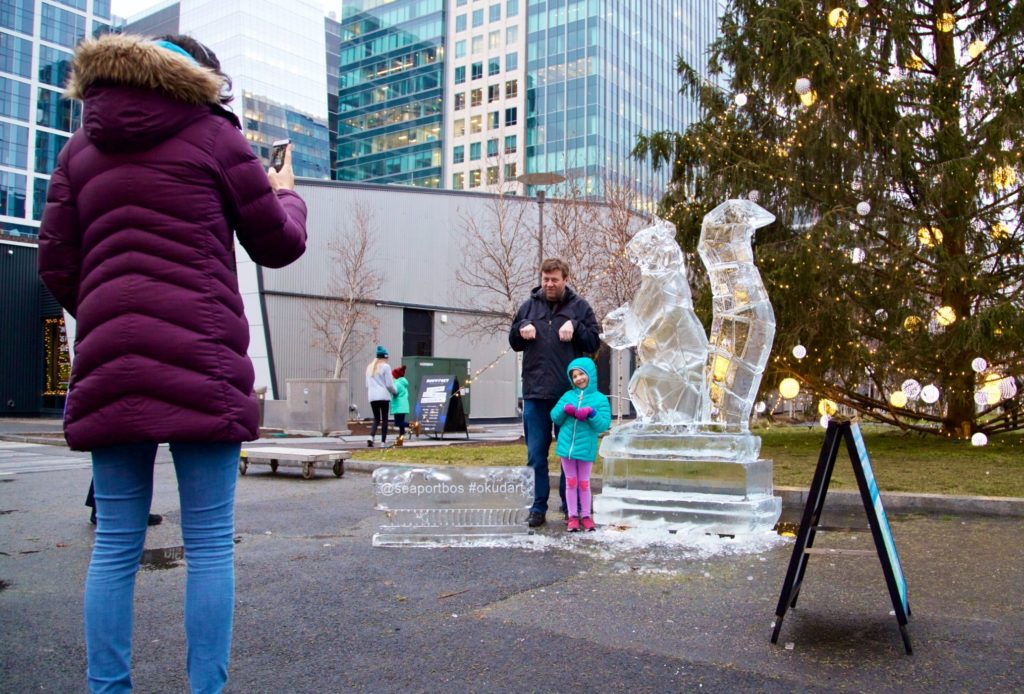 Wind your way down the waterfront through the trail of interactive ice sculptures this New Year's Eve. Come and see some of your seasonal favorites and some new designs hosted by Boston's waterfront properties.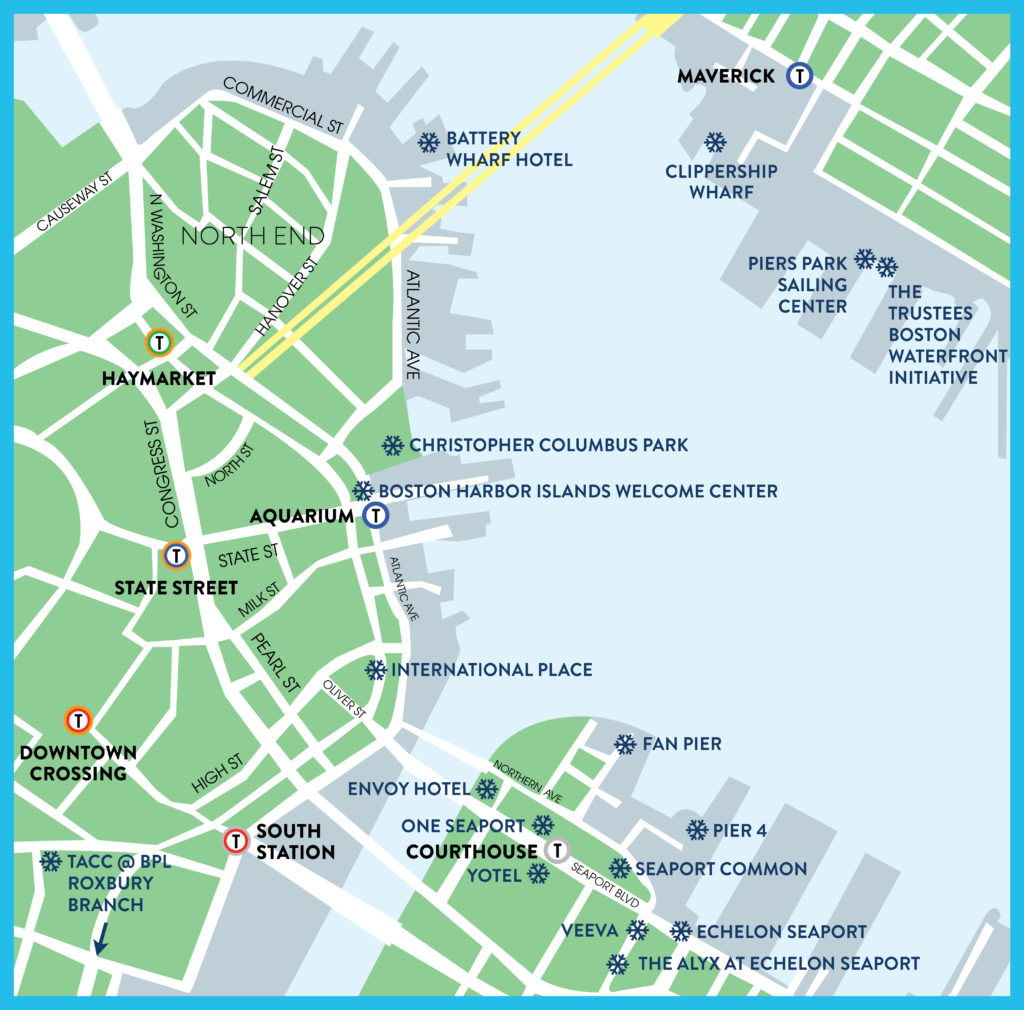 Getting Here
Ice sculptures are located close to transit stations across all major subway lines. Visit Courthouse (Silver Line), Aquarium (Blue Line), Maverick (Blue Line), Haymarket (Green / Orange Lines) or South Station (Red Line) for a short walk to ice sculptures and the Boston Harborwalk. Check out the MBTA website for service information.
$15 parking will be available on December 31, 2020 to January 1st, 2021 at the One Seaport Garage or Atlantic Wharf Garage. Please note to:
Enter after 1pm on 12/31/2020
Leave by 3am on 1/2/2021
Customers will need to pay in the garage office (not at the ticket machines or kiosks)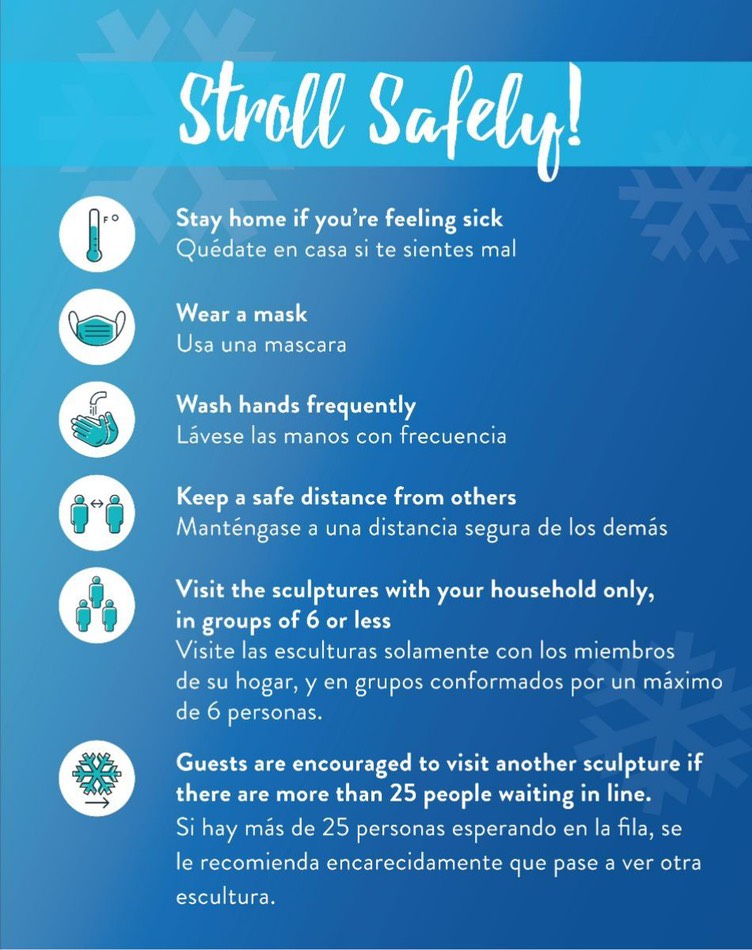 Please follow our Covid-19 safety guidelines when participating in the Ice Sculpture Stroll.
Stay home if you feel sick. 

Do not participate if you have shown signs or symptoms for 14 days or exposure to sick individuals in the past 14 days. 

Do not participate if you have traveled outside of Massachusetts in the last 14 days with the exceptions of VT and HI.

Face mask required for guests years old 5 and up.

Maintain 6ft social distancing when waiting to take photos and gathering near sculptures.

Visit the sculptures with your household only, in groups of 6 or less

Avoid physical contact with others. 

Guests are encouraged to visit another sculpture if there are more than 25 people waiting in line.
Le agradecemos que siga nuestros lineamientos de seguridad del COVID-19 cuando participe en el Paseo por las Esculturas de Hielo
Si se siente mal, quédese en casa.
Si, en el transcurso de los últimos 14 días, usted ha presentado signos o síntomas de enfermedad, o si ha estado en la cercanía de personas enfermas, le agradecemos que no participe.
Si usted ha viajado fuera de Massachusetts en el transcurso de los últimos 14 días, a excepción de Vermont y Hawái, le agradecemos que no participe.
El uso de una mascarilla o cubierta facial es obligatorio para los huéspedes de 5 años en adelante.
Mantenga un distanciamiento social de 6 pies (2 metros) mientras espera para tomar fotos y al agruparse alrededor de las esculturas.
Visite las esculturas solamente con los miembros de su hogar, y en grupos conformados por un máximo de 6 personas.
Evite el contacto físico con los demás.
Si hay más de 25 personas esperando en la fila, se le recomienda encarecidamente que pase a ver otra escultura.
Tómese una foto "selfi" con cada escultura que visite, y márquela con la etiqueta @bostonharbornow, ¡para participar en el sorteo de un paquete vacacional para dos personas!

CONTEST
Participate in the Waterfront Ice Sculpture Stroll Selfie Contest and enter to win a staycation prize package  for two! Prizes include restaurant gift cards, tickets to the Greenway Carousel, a family four pack to the Boston Harbor Islands, and a #BundleupBoston swag kit.
HOW TO ENTER:
Post a selfie on Facebook, Twitter, or Instagram with one of our qualifying New Years Eve on the Waterfront ice sculptures.
Tag @BostonHarborNow to enter.
Add the partner location of the photos.
You may enter as many times as you wish. One entry per unique photo. All three criteria must be met to qualify as a valid entry. Winners will be drawn at random during the first full week of January and notified via social media channels. Follow @BostonHarborNow to ensure our winner notification DMs shows up in your inbox. Prizes have no cash value and can be used during 2021. Boston Harbor Now reserves the right to disqualify entries that fail to meet contest rules and criteria. Good luck!