THE PROJECT:
Boston Harbor [re]creation creates platforms for artists to interpret the unique elements that comprise Boston Harbor, so that artists, in turn, may engage new audiences through creating place-based artwork that offers innovative educational and recreational opportunities for the public. 
2018 Artists:
Harborwalk Artists in Residence: The Mythmakers, Donna Dodson & Andy Moerlein
Beacon, a 20' tall bamboo sculpture by The Myth Makers, Donna Dodson & Andy Moerlein will be a monumental bamboo sculpture inspired by the Osprey as a tribute to Rachel Carson and her ecological restoration efforts in Boston and beyond. The Myth Makers public artwork will initiate the first project of the new Harborwalk Artist in Residence (AIR) program. The Myth Makers highlight the Osprey as a survivor and adapter in our rapidly evolving human landscape. Devastated by DDT poisoning, these skilled fish hawks are recovering from the brink of extinction, and are an inspiring example of the role humans can play in restoring balance when we engage the living world around us. The Harborwalk is a great vantage point to study these rugged birds in the Boston Harbor. The sculpture will be installed at Head Island, also known as the Sugar Bowl, at the far end of the loop around Pleasure Bay. The artists will lead a processional celebration to install the sculpture on Sunday July 1st from 9:30AM - 11:30AM. This exciting parade is open to all ages. The artists will be present and after installation, there will be a brief dedication. The Myth Makers will discuss the legacy of Rachel Carson and citizen scientists worldwide who have contributed to science through personal observations and documentation. Meet at the entrance to the path to Head Island near the intersection of Farragut Road and William J Day Boulevard in South Boston at 9:30. The sculpture will be on view at this location until Friday Sept 7th. In the late summer the Beacon will migrate to the Charlestown Navy Yard where it will be on view until Friday November 16th. The artists will host an Open Studios workshop on Saturday August 4th from 2p-4:30p at Head Island.
Boston Harbor Islands Artists in Residence
In the Harbor, Freedom Sings will be created by Artist Kera M. Washington who will metaphorically trace the footprints of African and Native (Indigenous) Americans who walked on and in the Boston Harbor Islands. Washington will compose songs and rhythms inspired by music that was written by early activists and abolitionists during and/or about pre-Emancipation Boston-based struggles for freedom. Through percussion workshops and public performances on George's Island, Washington will explore the messages in this music that are relevant today, and share this (new) music and creation with visitors of the islands. This music and its messages of inspiration will speak to the continuing struggles for liberty that African and Native (Indigenous) Americans still experience today. The Open Studios for this project will be on George's Island on Sunday August 19, 2-4:30.
In Shore Line Recall, the public are invited to join artist Freedom Baird in recording their experiences of the Boston Harbor Islands' lowest-lying areas which are in danger of vanishing with rise in sea-level caused by climate change. For each day of the residency, Baird will visit the most vulnerable areas of each island and set up The Human Nature Field Desk, a portable, weather-resistant desk where participants will create 2-D visual art and text to capture their impressions. These records will be bound into an archival volume which will serve as a document of future places long-gone. The public is invited to participate in the project and contribute to the art being created during each day of her residency: Sun Aug 19 (12:30-4:30pm): George's Island Tues Aug 21 (noon-3pm): Peddocks Island Weds Aug 22 (11am-3pm): Lovells Island Thurs Aug 23 (10am-2pm): Spectacle Island Fri Aug 24 (10am-2:30pm): Bumpkin Island Visit http://freedombaird.org/human-nature/shore-line-recall/ for more info on specific locations to find her pop-ups.
 Artists have been selected through a juried process.
2018 JURY
Celebrate with us!!
Beacon Installation Parade
The first piece to be installed as a part of  the Boston Harbor [re]creation AIR Program will be Beacon, a 20 foot sculpture created by The Mythmakers, Donna Dodson and Andy Moerlin. The artists will be leading a celebratory parade to the installation of the piece and afterwards there will be a brief dedication!
When: Sunday July 1st, 9:00 to 11:30 A.M.
Where: Head Island
RSVP: Click here
Kickoff Celebration: 
Kickoff celebration, featuring music, performance, and participatory visual art. Meet the Artists in Residence and learn about their projects. This free boat ride will feature music, performance, poetry, and participatory visual art, showcasing intergenerational and diverse expressions upriver, celebrating the art and culture that flow along the many waterways into Boston Harbor. Don't miss this wonderful free event!
When: Monday, July 30th, 7:00-8:30
Where: Boat leaves from World Trade Center dock
RSVP: Click here
There will also be a cash bar at this event.
With many of our communities located within a short distance from Boston Harbor, Boston Harbor Now, through funding from The Boston Foundation, the Boston Cultural Council, Reynders McVeigh Capital Management and Fresh Pond Capital wishes to introduce (or re-introduce) communities to the enjoyment of Boston Harbor so we can all take advantage of this great resource.
Open Studios Workshops
Each of the artists-in-residence will be hosting an Open Studios workshop for their pieces that will provide the opportunity for people to meet with the artists and learn more about the inspiration behind each piece.
The Mythmakers: Donna Dodson and Andy Moerlin, Beacon:
When: Saturday August 4th, 2:00 – 4:30 P.M.
Where: Head Island
Kera Washington, From the Harbor, Freedom Sings:
When: Saturday August 11th, 2:00 – 4:30 P.M.
Where: Georges Island
Freedom Baird, Shore Line Recall: (multiple dates)
Beaches:
| Day & Date | Time | Location | High Tide Time |
| --- | --- | --- | --- |
| Sat July 21 | 3-7pm | Houghs Neck, Nut Island, Quincy | 7:33pm |
| Sun July 22 | 3-7pm | Webb Memorial State Park, Weymouth | 8:28pm |
| Sun July 29 | 12-4pm | World's End, Hingham | 1:24pm |
| Sun Aug 5 | 3-7pm | Deer Island, Winthrop | 6:16pm |
Islands:  
| Day & Date | Time | Location | High Tide Times |
| --- | --- | --- | --- |
| Sat Aug 18 | 12:30-4:30pm | Georges Island | 5:33am, 5:57pm |
| Sun Aug 19 | 11am-3pm | Grape Island | 6:32am, 6:53pm |
| Mon Aug 20 | 11am-3pm | Thompson Island | 7:33am, 7:50pm |
| Tues Aug 21 | 11am-3pm | Peddocks Island | 8:32am, 8:45pm |
| Weds Aug 22 | 11am-3pm | Lovells Island | 9:26am, 9:36pm |
| Thurs Aug 23 | 11am-3pm | Spectacle Island | 10:15am, 10:23pm |
| Fri Aug 24 | 10am-1pm | Bumpkin Island | 10:59am, 11:06pm |
To view the official press release for the 2018 Artists-in-Residency program click the link below!
Blogs:
How can we encourage more socially inclusive public art and audiences?
2017
The summer of 2017 featured an Artist in Residence program based on Spectacle Island, and a temporary sculpture exhibition on Peddocks Island. Artwork creatively interfaced with the natural environment and activated culture, and history of the Boston Harbor Islands.

About the 2017 Artists in Residence:
Ryan Edwards is a Boston-based composer and interdisciplinary artist, as well as the co-founder and drummer of Afro-Beat band Federator N°1 with a background in West African drum and dance, jazz and new-music composition. He is a New Music America Grant Recipient, and travels the world to make people dance to his multi-genre music and art. In his residency, Ryan captured sounds of the island and made new sample / triggered / electronic instruments. With these new instruments, he wrote, performed and recorded a suite of songs for the island, on the island, and in a way, by the island. Read more about the works of Ryan Edwards: http://www.ryanedwards.info
Field Recordings made 8/2/17- 8/10/17 by Edwards on Spectacle Island were recorded with an H4n Zoom mobile recording device. All files are raw and unedited. Edwards "created tracks" with all sounds sourced, created, written and mixed on Spectacle Island, in the yurt.
Daniel Zeese
 is an artist, designer and educator practicing in Boston. His latest work explores populations, belonging and identity within urban environments. He received a Bachelor's of Fine Arts, Sculpture, from Virginia Commonwealth University in 2010 and a Masters in Architecture from Boston Architectural College in 2015. In his residency, Daniel Zeese investigated what it means to be on the edge of civilization and the wilderness. Zeese produced a series of narrative vignettes and imaginary landscapes using collages of scanned images collected from the island as well as wearable sculptures. The body of work Daniel created in this residency is called "Toile" and can be best seen on his website: 
danielzeese.com/new-index/
BIENNIAL PEDDOCKS ISLAND ENVIRONMENTAL SCULPTURE EXHIBITION
Peddock's Island is a platform for artists to investigate, expand, and challenge the creative potential of landscape management through sculptural installation made primarily of invasive plant species harvested on the island.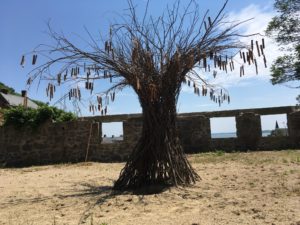 ---
2017 Peddocks Island Artists