THE PROJECT:
Boston Harbor [Re]creation creates platforms for artists to interpret the unique elements that comprise Boston Harbor, so that artists, in turn, may engage new audiences through creating place-based artwork that offers innovative educational and recreational opportunities for the public. 
Please Join us! Arts on the Edge Cruise, Monday July 8, 6:30-8:00
Join Boston Harbor Now on a cruise through Boston Harbor, making connections across cultures and communities and celebrating the many forms of artistic expressions that flow into the Harbor. This free boat ride will feature music, performance, poetry, and participatory visual art, showcasing intergenerational and diverse expressions. Meet the Boston Harbor Artists in Residence and learn about their projects, and an all-star lineup of poets, visual artists, musicians, and dancers. With many of our communities located within a short distance from Boston Harbor, Boston Harbor Now in partnership with the National Park Service, through funding from the Boston Cultural Council wishes to introduce (or re-introduce) communities to the enjoyment of Boston Harbor so we can all take advantage of this great resource. Not to be missed!
- Destiny "Divine" Polk: afro-indigenous poet, dancer, choreographer, producer, multi-disciplinary artist, community organizer/space holder, art-educator and founder of art-activist platform Radical Black Girl. - DJ TROY Frost: an artist, educator and DJ born and raised in Dorchester/Roxbury. - Marsha Parrilla: Danza Orgánica bring an eclectic mix from their repertory work. - Red Panda House: hip-hop dance group - Amanda Shea: multidisciplinary artist and spoken word poet. - Kera Washington and Zili Misik: Music bridging cultures, continents and generations - Veronica Robles: Mariachi and traditional Latin dance - Billy Dean Thomas, AKA "The Queer B.I.G" is a Hip-hop recording artist and composer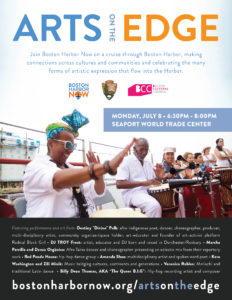 Tickets are free. Reserve your spot on Eventbrite.
**Boat departs from the World Trade Center at 6:30 pm. Please arrive at least 30 minutes prior to departure. Boarding will begin at 6:00 pm.  The cruise cannot wait for late guests
We are excited to announce the 2019 Artists in Residence on the Harborwalk and on the Islands!
Harbor Islands: Past, Present, Future
Quilting the Islands Together
The public will be invited to embellish squares during art gatherings on Peddock's and George's islands for a community quilt facilitated by artist Robin MacDonald-Foley. These art gatherings will connect people together through sharing stories. Robin will gather and stitch the art pieces together during her residency, and the resulting quilt will reveal the many common threads of place, nature, and people. The quilt will unfold over several weeks, linking each square together in a beautiful visual story. Quilting is an activity that brings different generations of people together in a meaningful way. As an artist and educator, Robin feels the islands are a perfect setting to make the art quilt, and hopes her own experiences on island will inspire new stories for future visitors.
Please join Robin at a Harbor Islands Art Gathering. All materials will be provided. - Wednesday Aug 7, 2:00-3:30: Peddocks Island - Thursday Aug 8, 2:00-3:30: Lovells Island - Sunday Aug 18: Peddock's Island - Monday, Aug 19: Spectacle Island The Quilt will be finished and on display on August 24 from 12:00-2:00 on Georges Island.
Robin MacDonald-Foley http://robinjmf.com Robin MacDonald-Foley is a multi-faceted artist who prefers working outdoors and considers the natural environment her studio. Documenting nature's subtitles and extremes, Robin's reworking of visual imagery in various art forms has evolved in several bodies of work, including stone carving and photography. Raised in Quincy, Massachusetts on a one-square-mile peninsula, Robin grew up boating and spending time on the neighboring Boston Harbor Islands with her family. The islands connection has always been a big part of her life, a place her family called home six decades ago. Quilting the Islands Together will be a time of reflection and sharing stories with island visitors she meets during her stay. Her childhood roots remain a continual source of inspiration in her artwork today. Robin received her BFA in Fine Arts from the Art Institute of Boston at Lesley University, and has been widely exhibited in a variety of venues both locally and nationally. She currently teaches art in Mission Hill, and enjoys working with adults and children of all ages.
Typewriter Island
In a "novel" (pun intended) approach to breaking down barriers between writing and the general public, Brian Sonia-Wallace and his "public typewriter" will transform the stories people share into instant-poems on the spot for participants to take home as a memento of their experience. Brian will spend two weeks on Spectacle Island in August 18-September 1, writing poems for those who seek him out and unsuspecting passersby alike. He will also compile the texts created into a single meta-text that weaves together the breadth of experiences people bring to this space. Visitors can also bring Brian stories, poems, pictures, and histories to become part of the tapestry of words.
Pop-ups on Spectacle, George's and Ferries throughout the residency. Full schedule of pop-up's coming soon. Confirmed: Boston Harbor Artist in Residence Public Event: August 24, 12:00 - 2:00 pm on Georges Island
Brian Sonia-Wallace Briansoniawallace.weebly.com Traveling poet Brian Sonia-Wallace has made a career of helping people tell their stories with the help of a vintage typewriter through on-demand poetry. His first book of essays, "Do You Need a Poem?", forthcoming from Harper Collins, is about Brian's poetic travels across America as Writer-in-Residence for Amtrak, Mall of America, a political campaign, and more. He started writing poems for strangers in 2012, which led to creating his own company, RENT Poet. Brian compiled some of these poems into his first book, "I Sold These Poems, Now I Want Them Back" (Yak Press, 2016), and his writing has additionally appeared in Rolling Stone, The Guardian, and Rattle. Brian's work bringing poetry into the mainstream has been profiled in the New York Times, The Guardian, and NPR's How I Built This. Brian is based in Los Angeles, and his favorite animal is, and has always been, the three-toed sloth.
 Artists were selected through a juried process.
2019 JURY
2018 Artists:
Beacon
Beacon, a 20' tall bamboo sculpture by The Myth Makers, Donna Dodson & Andy Moerlein was a monumental bamboo sculpture inspired by the Osprey as a tribute to Rachel Carson and her ecological restoration efforts in Boston and beyond. The Myth Makers public artwork initiated the first project of the new Harborwalk Artist in Residence (AIR) program. The Myth Makers highlight the Osprey as a survivor and adapter in our rapidly evolving human landscape. Devastated by DDT poisoning, these skilled fish hawks are recovering from the brink of extinction, and are an inspiring example of the role humans can play in restoring balance when we engage the living world around us. The Harborwalk is a great vantage point to study these rugged birds in the Boston Harbor. The sculpture was installed at Head Island, also known as the Sugar Bowl, at the far end of the loop around Pleasure Bay. The artists led a processional celebration to install the sculpture where they discussed the legacy of Rachel Carson and citizen scientists worldwide who have contributed to science through personal observations and documentation. The sculpture was on view at this location until Friday Sept 7th, and then it migrated to the Charlestown Navy Yard where it was on view until Friday November 16th.
In the Harbor, Freedom Sings
In the Harbor, Freedom Sings was created by Artist Kera M. Washington who metaphorically traced the footprints of African and Native (Indigenous) Americans who walked on and in the Boston Harbor Islands. Washington composed songs and rhythms inspired by music that was written by early activists and abolitionists during and/or about pre-Emancipation Boston-based struggles for freedom. Through percussion workshops and public performances on George's Island, Washington explored the messages in this music that are relevant today, and shared this (new) music and creation with visitors of the islands. This music and its messages of inspiration spoke to the continuing struggles for liberty that African and Native (Indigenous) Americans still experience today.
Shore Line Recall
In Shore Line Recall, the public was invited to join artist Freedom Baird in recording their experiences of the Boston Harbor Islands' lowest-lying areas which are in danger of vanishing with rise in sea-level caused by climate change. For each day of the residency, Baird visited the most vulnerable areas of each island and set up The Human Nature Field Desk, a portable, weather-resistant desk where participants created 2-D visual art and text to capture their impressions. These records were bound into an archival volume which serves as a document of future places long-gone. The public participated in the project and contributed to the art created during each day of her residency: Sun Aug 19 (12:30-4:30pm): George's Island Tues Aug 21 (noon-3pm): Peddocks Island Weds Aug 22 (11am-3pm): Lovells Island Thurs Aug 23 (10am-2pm): Spectacle Island Fri Aug 24 (9:30am-12:30pm): Bumpkin Island, (1:30-5:30): Grape Island Visit http://freedombaird.org/human-nature/shore-line-recall/ for more info.
Blogs:
2017 Artists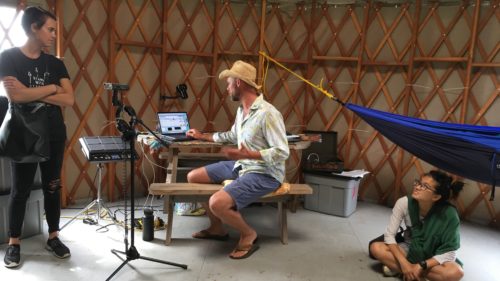 Ryan Edwards is a Boston-based composer and interdisciplinary artist, as well as the co-founder and drummer of Afro-Beat band Federator N°1 with a background in West African drum and dance, jazz and new-music composition. He is a New Music America Grant Recipient, and travels the world to make people dance to his multi-genre music and art. In his residency, Ryan captured sounds of the island and made new sample / triggered / electronic instruments. With these new instruments, he wrote, performed and recorded a suite of songs for the island, on the island, and in a way, by the island. Read more about the works of Ryan Edwards: http://www.ryanedwards.info
Field Recordings made 8/2/17- 8/10/17 by Edwards on Spectacle Island were recorded with an H4n Zoom mobile recording device. All files are raw and unedited. Edwards "created tracks" with all sounds sourced, created, written and mixed on Spectacle Island, in the yurt.
Daniel Zeese
 is an artist, designer and educator practicing in Boston. His latest work explores populations, belonging and identity within urban environments. He received a Bachelor's of Fine Arts, Sculpture, from Virginia Commonwealth University in 2010 and a Masters in Architecture from Boston Architectural College in 2015. In his residency, Daniel Zeese investigated what it means to be on the edge of civilization and the wilderness. Zeese produced a series of narrative vignettes and imaginary landscapes using collages of scanned images collected from the island as well as wearable sculptures. The body of work Daniel created in this residency is called "Toile" and can be best seen on his website: 
danielzeese.com/new-index/
2017 PEDDOCKS ISLAND ENVIRONMENTAL SCULPTURE EXHIBITION
Peddock's Island is a platform for artists to investigate, expand, and challenge the creative potential of landscape management through sculptural installation made primarily of invasive plant species harvested on the island.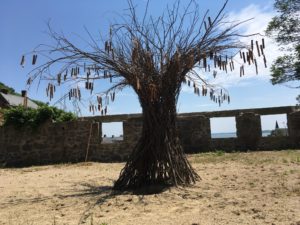 ---
2017 Peddocks Island Artists
With many of our communities located within a short distance from Boston Harbor, Boston Harbor Now, through funding from The Boston Foundation, the Boston Cultural Council, Reynders McVeigh Capital Management and Fresh Pond Capital wishes to introduce (or re-introduce) communities to the enjoyment of Boston Harbor so we can all take advantage of this great resource.