Though their names suggest otherwise, Deer Island and Nut Island are in fact two peninsulas that are part of Boston Harbor Islands National & State Park. Both are deeply rooted in history, filled with native wildlife, and provide scenic views of the city and harbor, making them a fantastic destinations to explore with family and friends. Both, however, might be best known for their roles in natural resource protection and environmental stewardship. They are home to the Deer Island Wastewater Treatment Plant and the Nut Island Headworks, both owned and operated by the Massachusetts Water Resources Authority.
What many may not realize is that both Deer and Nut Islands are also prime fishing locations, each with its own public pier drawing both avid and amateur anglers to Boston Harbor each year.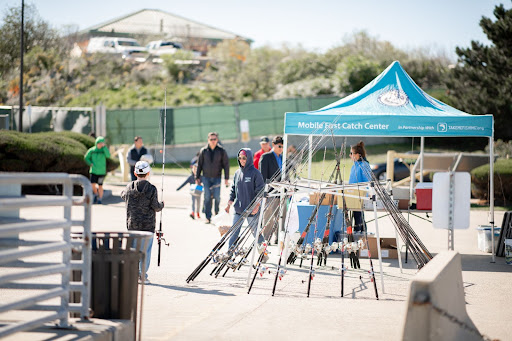 In 2022,  Boston Harbor Now and partners organized two fishing festivals to take advantage of these fantastic fishing spots–and introduce those unfamiliar to all they have to offer. In addition to providing a great fishing environment and an opportunity for beginners to learn how to fish, these events also provided a free day of activities, including MWRA's "What Not to Flush" game (a crowd favorite), and up close introductions to Boston Harbor critters with Save the Harbor/Save the Bay, who came prepared with their handy dandy crab trap. The first "Reel Fun Fishing Day" was held at Deer Island in June, while the second brought visitors to Nut Island in September. More than 350 flocked to the islands to participate and join in on the festivities. 
Attendees learned how to identify and fish for striped bass and winter flounder with the Massachusetts Division of Marine Fisheries and the MassWildlife Angler Education Program. Rods, bait, and tackle were provided by the Department of Marine Fisheries (DMF) for visitors so beginners could try their luck without needing to supply their own equipment. Not only did guests learn how to fish, but they also learned about the importance of both islands and had time to explore their trails at their leisure.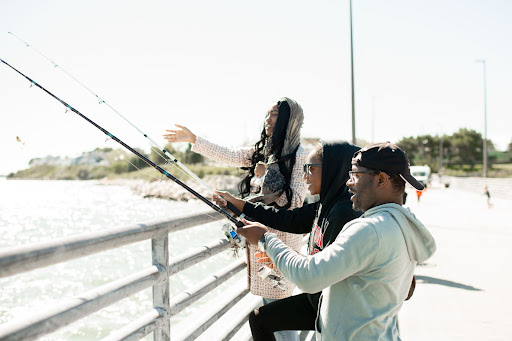 Reel Fun Fishing Day was presented by Boston Harbor Now as an opportunity for the community to celebrate the dual anniversaries of Boston Harbor Islands National and State Park – 25 years as a national park and 50 as a state park. As part of the commemoration, Boston Harbor Now sought to engage the community with fun, educational programming in all areas of the Park, introducing visitors to everything the park has to offer. Reel Fun Fishing Day provided a great way to introduce visitors to Deer and Nut Islands, highlighting their prime locations for fishing.
Reel Fun Fishing Day was made possible by the National Park Service, Massachusetts Division of Marine Fisheries, Massachusetts Division of Fisheries and Wildlife (MassWildlife), Massachusetts Water Resources Authority (MWRA), and Save the Harbor/Save the Bay, with generous support from the National Park Foundation and L.L. Bean. Through this strong partnership, we were able to make Reel Fun Fishing Day a memorable event for community members on the Boston Harbor Islands. 
---