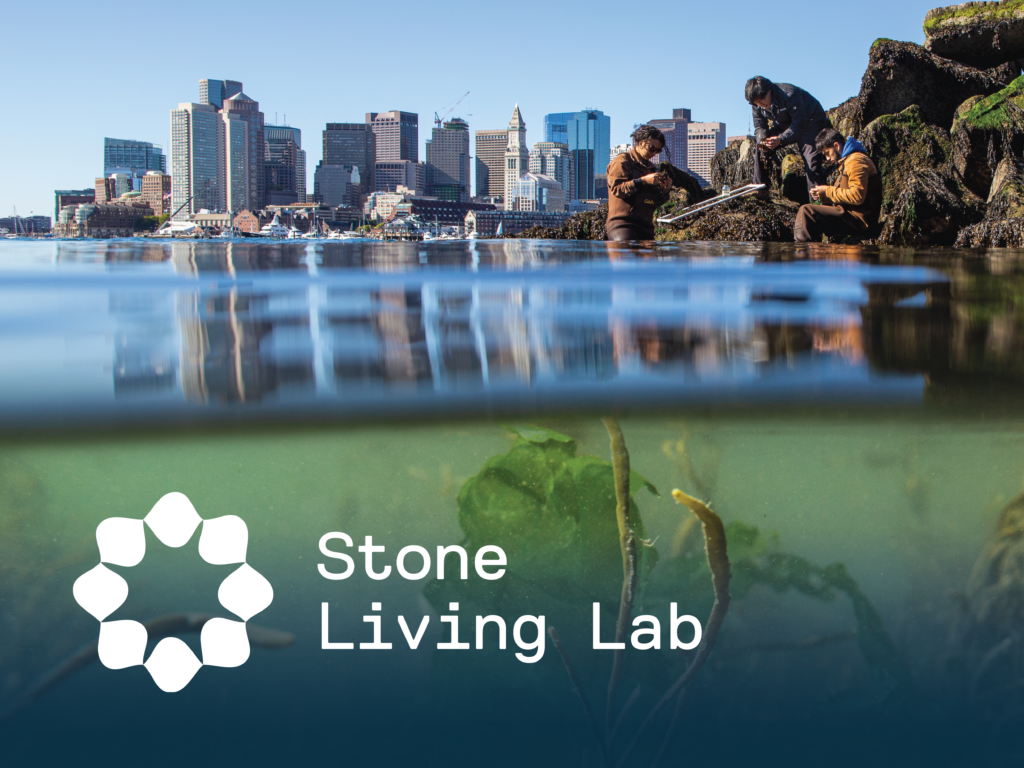 As coastal communities face increasing climate-related threats, a new innovative and collaborative ecosystem has launched that aims to become a global hub for testing and scaling up nature-based solutions in the high-energy environment of the Boston Harbor Islands National and State Park.
The Stone Living Lab is a partnership of the City of Boston, UMass Boston School for the Environment, Boston Harbor Now, the National Parks of Boston and the James M. and Cathleen D. Stone Foundation that engages scientists and the community in research, education, and the promotion of equity.
Vulnerable coastal communities around the world are moving away from mammoth infrastructure (such as concrete seawalls) in favor of nature-based solutions, which mimic natural landforms to provide protection while restoring ecologies and providing co-benefits to coastal communities. Examples include barriers of natural materials with surfaces allowing organisms to settle to increase biodiversity and promote aquaculture, or the placement of marshes designed to grow with time and continually provide wave attenuation and shoreline stabilization.
However, major gaps exist in innovating, permitting, and financing nature-based solutions. Communities need more experimentation to create confidence in the right solutions that can work at a necessary scale.
The Stone Living Lab will operate at a collection of outdoor spaces in and around Boston Harbor, beginning with baseline monitoring at Rainsford Island and a pilot project at Fallon Pier at UMass Boston, to answer critical questions such as:
• How can we ensure nature-based solutions will work in weather conditions that are more volatile and unpredictable than we've ever experienced?
• How can the public help lead in implementing resilience solutions, and how can we ensure these solutions help address issues of climate justice and inequality?
• What are the best next-generation solutions we should start investing in across the world?
• How do we engage and collaborate with the regulatory and development community to streamline permitting and financing so that we solve these problems before it's too late?
As a living lab, the partnership will also engage the larger community – including students, civic organizations, and advocates– to co-develop solutions to problems alongside scientists, including challenges related to permitting, financing, and community benefits necessary for implementing the solutions we need.
"As a coastal city, Boston is on the front lines of climate change. By making our coastline more resilient, we can protect vulnerable populations and neighborhoods from climate impacts, while improving quality of life and expanding waterfront access for everyone who lives, works, and plays in Boston," said Mayor Martin J. Walsh. "The Stone Living Lab is an important step forward in this work, and we are grateful to UMass Boston School for the Environment, Boston Harbor Now, the National Parks of Boston, and the James M. and Cathleen D. Stone Foundation for their partnership on this exciting project."
"We are creating a new and dangerous phase of Earth's history. It is termed the Anthropocene. It refers to the immense effects of human activity on all aspects of the Earth's physical systems and on life on the planet," said UMass Boston Chancellor Marcelo Suárez-Orozco. "We have become a geologic force. We are warming the planet, leaving behind the climate in which civilization first emerged. With unchecked climate change, we put ourselves – above all our most vulnerable communities—at risk of new and re-emerging infectious diseases, sharply rising sea levels along with heat extremes, droughts and mega-storms, and floods. But with the best science, research, and intelligent, pragmatic policies we can alter the current course. With the Stone Living Lab taking the lead, Boston will emerge once again as a beacon on climate mitigation to protect our richly varied coastal ecosystems for generations to come."
"Philanthropy can play an important role in helping drive innovation in the non-profit sector," said Cathy Stone, president of the James M. and Cathleen D. Stone Foundation. "The Stone Foundation is proud to be working with UMass Boston, Boston Harbor Now, the City of Boston and the National Parks of Boston to develop a living laboratory for climate resilience and adaptation that puts biodiversity and climate justice in the foreground. The challenges we face are urgent and unprecedented. It is going to take government and the private and public sectors working together to develop thoughtful and bold solutions."
"We are running out of time. The Stone Living Lab is the partnership we need to accelerate progress around sustainable resilience solutions that protect our waterfront, promote equity, and improve quality of life for coastal neighborhoods," said Kathy Abbott, president and CEO of Boston Harbor Now. "Just as many advocates came together decades ago for the Boston Harbor cleanup, we must now create an even broader coalition to support the research, education, funding, and outreach necessary to solve our region's next environmental challenges in the face of climate change. We look forward to partnering in this important work with the Stone Living Lab."
"The Stone Living Laboratory will be a jewel in the crown of UMass Boston," said Katherine S. Newman, System Chancellor of Academic Programs at UMass. "It will serve as a critical vehicle for translating powerful research on the impact of climate change into actionable strategies that will improve resiliency for this great coastal city. The Stone Foundation and the School for the Environment represent a visionary partnership which will benefit all citizens of the Commonwealth for decades to come."
"I am excited about the Stone Living Lab's commitment to provide hands on field science and research opportunities for Boston students to learn about the impact of climate change on our community and how students can contribute to finding ways to combat sea level rise," said Nikki Tabron, Chief Education Officer, Thompson Island Outward Bound Education Center.
"The Stone Living Lab offers an ideal scale for determining the most cost-effective nature-based solutions for coastal flooding while training the next generation of thought leaders in climate resilience," said Julie Wormser, deputy director of the Mystic River Watershed Association.
"It is encouraging and inspiring to see the Stone Living Lab merge the issues of climate science and policy in such a tangible and fruitful way. As the bar around resilient solutions for Boston Harbor necessarily rises, equipping developers and regulators with the ammunition to implement viable, nature based solutions that integrate issues of access, economics, ecology and policy will become invaluable," said Nick Iselin, General Manager of Development at Lendlease.
"The need to incorporate youth's voices will be paramount in our fight to transition to a more sustainable and equitable future," said Wiener Douyon, student at Colby College. "Given that progress is grounded in novelty, our perspectives will ensure that this plan will continue to resonate and spark passion in our community throughout time and space. This living lab, then, is an attempt to enable the flow of conservation-related research and alter how we, as a community consisting of both youth and adult, can collaboratively engage in tackling climate change altogether."
"We are thrilled to be involved in The Stone Living Laboratory, and to have the opportunity to establish the Cabot Education and Community Engagement Program," said Rob Davies, Vice President of Global Manufacturing at Cabot Corporation. "Our involvement is closely aligned with the three themes of our Sustainability Agenda: Caring for our People and Communities, Acting Responsibly for the Planet, and Building a Better Future Together. We look forward to supporting the research on climate change and its impact on coastal resiliency and using the new insights to strengthen our communities and broaden society's understanding of how we can make a difference."
The Lab is governed by a Steering Committee that also includes key partners and representatives from the Massachusett Tribe at Ponkapoag, the Woods Hole Group, and others involved in the operation of the Lab. The Lab takes guidance from a larger multi-disciplinary Advisory Board made up of over 40 members representing a host of disciplines and backgrounds including engineering, planning, regulatory, and environmental justice; Native American Tribes; municipalities; environmental groups; and many others. The Lab is also guided by a Scientific Advisory Committee of globally-recognized experts who will review and advise on all research goals, projects, and results as well as the educational program.
The Lab initial support has come through a $5 million investment from the James M. and Cathleen D. Stone Foundation. The Cabot Corporation has contributed an additional $375,000 for place based education and community science programing.
More information on the Lab can be found at www.stonelivinglab.org.
Stone Living Lab Steering Committee
• Kathy Abbott, Boston Harbor Now
• Marc Albert, National Park Service
• Joe Bagley, City of Boston
• Mark Borrelli, School for the Environment, University of Massachusetts Boston
• Kirk Bosma, Woods Hole Group
• Alison Brizius, City of Boston
• Bob Chen, School for the Environment, University of Massachusetts Boston
• Marianne Connolly, Boston Harbor Now
• Liz Cook, Boston Harbor Now
• Paul Kirshen, School for the Environment, University of Massachusetts Boston
• Lucy Lockwood, School for the Environment, University of Massachusetts Boston
• Jack Murray, Boston Harbor Now
• Francesco Peri, School for the Environment, University of Massachusetts Boston
• Sonja Plesset, James M. and Cathleen D. Stone Foundation
• Elizabeth Solomon, Massachusett Tribe
• Cathy Stone, James M. and Cathleen D. Stone Foundation
• Aaron Toffler, Boston Harbor Now
Stone Living Lab Advisory Board
• Alison Bowden, The Nature Conservancy
• David Cash, McCormack Graduate School of Policy and Global Studies, University of Massachusetts Boston
• Lisa Churchill, Climate Advisory
• Stewart Dalzell, Massachusetts Port Authority
• Rob Davies, Cabot Corporation
• Pam DiBona, Massachusetts Bays National Estuary Partnership
• Eric Doucette, US Coast Guard
• Wiener Douyon, Colby College
• Carly Foster, Arcadis
• Maureen Geary, City of Quincy
• Phil Giffee, Neighborhood of Affordable Housing
• Stephen Gray, Grayscale Collaborative
• Letitia Grenier, San Francisco Estuary Institute
• Rebecca Herst, Sustainable Solutions Lab, University of Massachusetts Boston
• Walter Hope, Friends of the Boston Harbor Islands
• Jill Horwood, Barr Foundation
• Nick Iselin, Lendlease
• Alexis Landes, Scape Studio
• Fred Laskey, Massachusetts Water Resources Authority
• Igor Linkov, Engineer Research and Development Center, US Army Corps of Engineers
• Keith Mahoney, The Boston Foundation
• Chris Mancini, Save the Harbor/Save the Bay
• Richard McGuinness, Boston Planning and Development Agency
• Deanna Moran, Conservation Law Foundation
• Sonia Mulgund, Acton-Boxborough Regional High School
• Heidi Nepf, Massachusetts Institute of Technology
• Patrice Nicholas, Center for Climate Change, Climate Justice, and Health, Massachusetts General Hospital Institute of Health Professions
• Tom O'Shea, The Trustees of Reservations
• Jim Peters, Massachusetts Commission on Indian Affairs
• Leslie Reid, Madison Park Development Corporation
• Charlotte Rice, The American City Coalition
• Bud Ris, Green Ribbon Commission
• Dan Sieger, Massachusetts Executive Office of Energy and Environmental Affairs
• Rob Stevens, City of Quincy
• John Sullivan, Boston Water and Sewer Commission
• Nikki Tabron, Thompson Island Outward Bound Education Center
• John Walkey, GreenRoots
• Amy Whitesides, Stoss Landscape Urbanism
• Cedric Woods, Institute for New England Native American Studies, University of Massachusetts Boston
• Julie Wormser, Mystic River Watershed Association
• Kristen Wyman, Natick Nipmuc Tribe
Stone Living Lab Scientific Advisory Committee
• Shannon Cunniff, Coastal Resilience Consultant
• Louise Firth, University of Plymouth, UK
• Julia Knisel, Massachusetts Office of Coastal Zone Management
• Leonard Nurse, University of the West Indies, Barbados
• Bregje van Wesenbeeck, Deltares, Netherlands
• Bret Webb, University of South Alabama
For media or other inquiries, please contact info@stonelivinglab.org.
###
---