THE PROJECT:
[Re]creation art initiatives create platforms for artists to interpret the unique elements that comprise Boston Harbor, so that the artists in turn may engage new audiences through creating place-based artwork that offers innovative educational and recreational opportunities for the public. This summer features an Artist in Residence program based on Spectacle Island, and a temporary sculpture exhibition on Peddocks Island. Artwork is selected for the manner in which it creatively interfaces with the natural environment and activates culture, and history of the Boston Harbor Islands.



ARTISTS IN RESIDENCE
A yurt on Spectacle Island provides a space for two week artist residencies in August for artists working in any media.  Artists are free to draw inspiration and material from anywhere in the Harbor. The public may check out open studio times on Spectacle on the second and fourth Saturday of August, to check out their work in process.
PEDDOCKS ISLAND ENVIRONMENTAL SCULPTURE EXHIBITION
Peddock's Island is a platform for artists to investigate, expand, and challenge the creative potential of landscape management through sculptural installation made primarily of invasive plant species harvested on the island.

---
ARTISTS
HOW TO GET HERE
 Visit Boston Harbor [re]creation on Peddocks Island  by public ferry service provided by Boston Harbor Cruises. Daily schedules are below. Click here to find out more about how to purchase ferry tickets.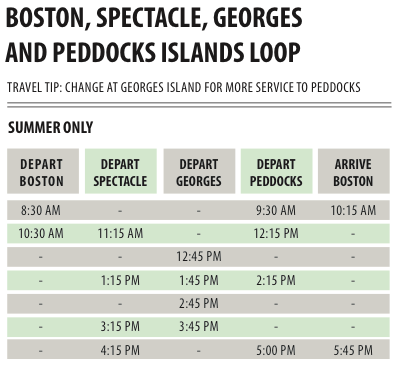 ---
Artists in Residence Open Studios (August 12 and 26, 2017)
Join Artists in Residence Daniel Zeese and Ryan Edwards for site-specific artwork and performances on Spectacle Island. During their two-week residency, artists draw inspiration from the natural environment and create place-based art, offering educational opportunities for children, adults and families.
All are welcome to experience their work in process Saturday August 12th, and Saturday August 26th, from 1:00-4:00 pm.
On August 12th, Ryan Edwards will perform songs using sampled sounds from nature, various electronic instruments and instruments built using Island materials.
On August 26th, Daniel Zeese will perform a narrative of characters comprised of themes of civilization and wilderness inspired by his residency. The story will be accompanied by objects and wearable sculptures Daniel created during his two weeks on Spectacle Island.
Reserve your tickets:
Ryan Edwards is a Boston-based composer and interdisciplinary artist, as well as the co-founder and drummer of Afro-Beat band Federator N°1 with a background in West African drum and dance, jazz and new-music composition. He is a New Music America Grant Recipient, and travels the world to make people dance to his multi-genre music and art.
Read more about the works of Ryan Edwards: http://www.ryanedwards.info
Daniel Zeese is an artist, designer and educator practicing in Boston. His latest work explores populations, belonging and identity within urban environments. He received a Bachelor's of Fine Arts, Sculpture, from Virginia Commonwealth University in 2010 and a Masters in Architecture from Boston Architectural College in 2015.
Read more about the works of Daniel Zeese: http://danielzeese.com