UPDATED 2/28: Applications are now open for 2023 Innovation Islands mini grants! Apply now and learn more.
A wonderful summer commemorating the Boston Harbor Islands' 25th anniversary as a National Recreation Area and 50th as a State Park was made even more exciting by a brand new mini-grant opportunity dubbed "Innovation Islands."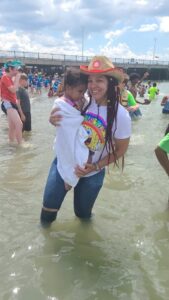 To help broaden community input on programming and events within the Park, Boston Harbor Now, National Parks of Boston, and the Massachusetts Department of Conservation and Recreation awarded twelve local nonprofits and organizations up to $4,500 each in grant funds, along with 200 free access ferry tickets to support the development of new experiences on the Islands.  
The reception was overwhelming! 51 applications were submitted for the opportunity to craft specialized engagement focused on culture and inclusion and catered to meet the unique needs and interests of their communities
The Veronica Robles Cultural Center (VROCC) planned a day of dancing, music, and workshops on Georges Island for the Latine and East Boston communities. Featuring performances by Veronica Robles herself and other friends of her all female mariachi band, the event delighted visitors from start to finish, including an elote concessions stand which was the hit of the day.
Fellow grantee Stiggity Stackz Worldwide brought a dance battle, "The Foundation", to Spectacle Island in late June. What Stiggity Stackz had started as a free, weekly training program for local dancers, The Foundation has morphed into an annual event, this year held on the Boston Harbor Islands for the very first time. Dozens of dancers and hundreds of visitors flocked to the dock to witness thrilling performances and dance along to infectious music, all against the backdrop of Boston's stunning summer skyline.
Another crowd favorite was the very first Innovation Islands event of the season: the Worcester Youth Nian Dancers' performance on Spectacle, planned and facilitated by the Southeast Asian Coalition of Central Massachusetts (SEACMA). Island visitors were invited to learn about traditional Chinese and Vietnamese customs and culture through a live, interactive Lion Dance performance, face painting, & origami instruction.
All in all, it was a season to remember, and Boston Harbor Now is proud to have helped make this pilot grant program a huge success.
Below is the complete list of 2022 Mini-Grant winners: 
Nonprofit organizations interested in learning more about Innovation Islands can visit: https://www.bostonharborislands.org/news/community-curated-programming/. 
---