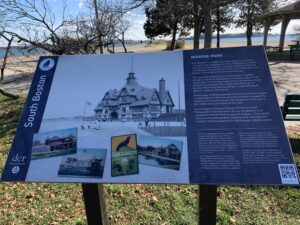 Mid November, Friends of the Boston Harborwalk (FBHW) installed eight new signs at Castle Island and Pleasure Bay. That brings the team's total number of signs to 42!
A partnership among the all-volunteer group, the City of Boston, and the state resulted in the first-ever signs at one of Boston's most beautiful spots—telling its history and connecting people to the site in the present. 
"For years I have walked around Castle Island but knew nothing about the 50-year effort to connect it to the South Boston mainland," said Steve Landrigan, who wrote two of the signs.  "I didn't know about the magnificent Head House that once graced Marine Park at City Point. Or the subsequent transformation of an iron pier into the causeway that now encircles Pleasure Bay. Our signs will help others learn this fascinating history."
City councilors Ed Flynn and Mike Flaherty, the Castle Island Association, and the South Boston Historical Society enthusiastically supported the initiative, leading Boston's City Council to generously award FBHW with a CPA grant to cover the cost of sign design, manufacture, and installation. FBHW volunteers created the sign content and managed the entire project pro bono. And the Department of Conservation and Recreation facilitated the addition of signage on their property.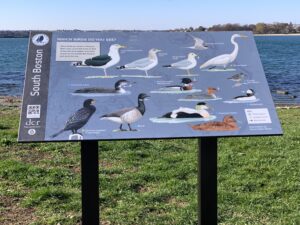 "The signs had just been installed and people were stopping to read them," said Liz Nelson Weaver, who wrote the grant proposal and managed the project. "One resident said he'd just come from the Marine Park sign. 'Oh I remember the aquarium and the seals,' he said thrilled to have read about both on the sign. Two visitors from Iceland read about Fort Independence. A mother shared the story of Boston Harbor's clean up with her young son as they looked from the sign across the harbor to the Deer Island facility. 
"So many people contributed to the signs' success," Liz added. Castle Island Association historians, Professors Bob Allison and Danielle Allen, the Massachusett Tribal Council, MWRA staff, Harry McDonough's daughter, ornithologists David Sibley and Wayne Peterson, author Jim Sullivan, photographer Deb McCarthy… the list is long! 
All FBHW signs are linked by a QR code to a companion website BosHW.us with Spanish translations, audio recordings done in partnership with Perkins School for the Blind, as well as additional information and a list of resources. "Our goal is to cover a wide range of topics and to give access to as many people as possible," Liz noted.
---