SUMMER ON THE WATERFRONT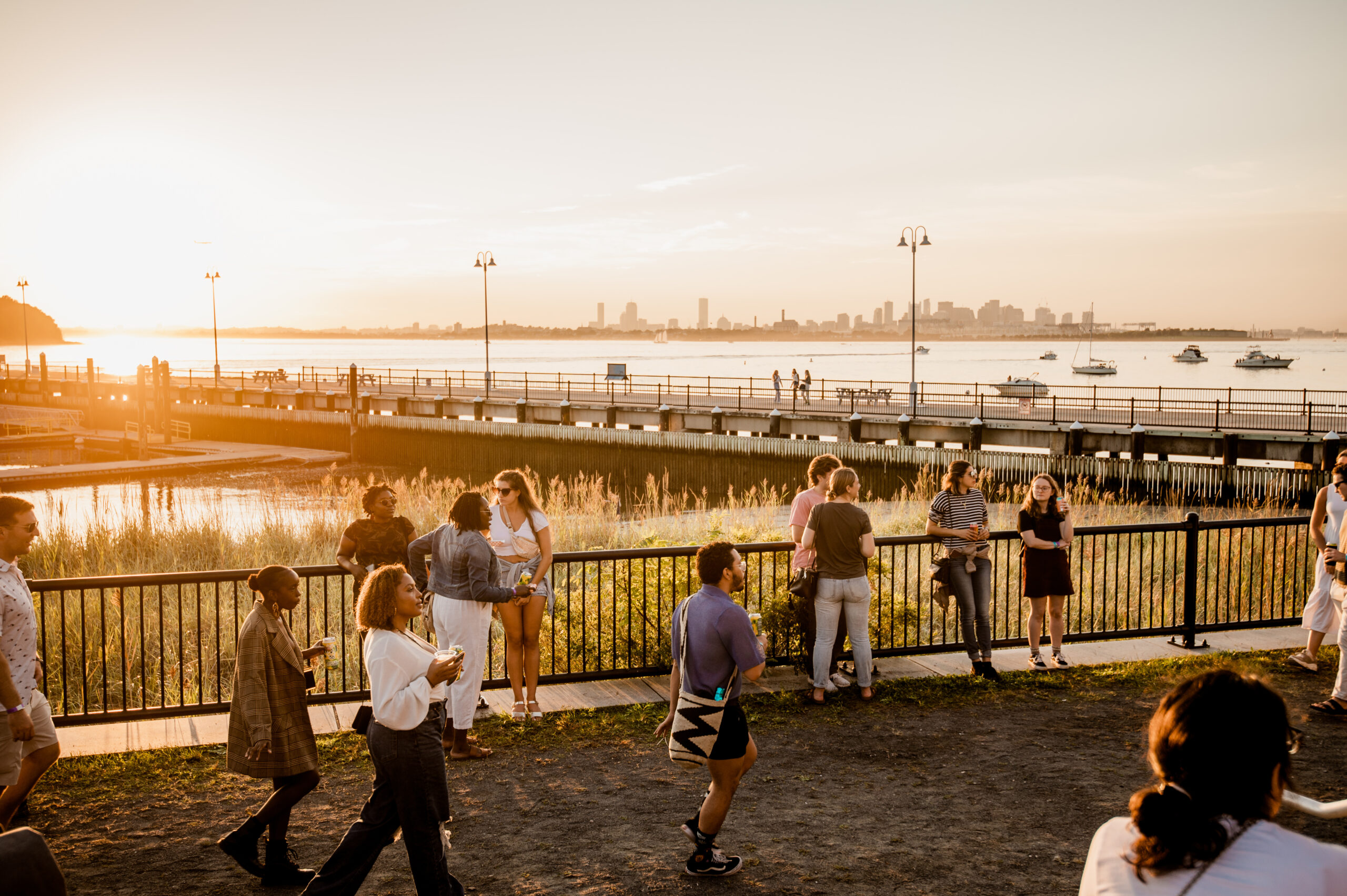 Things are heating up on the waterfront, as we welcome the return of summer events! Enjoy our recommendations for FREE and low-cost activities on the harbor, from fitness classes to public concerts, markets, parties, and more. Be sure to check out our summer programming page for ideas on how to enjoy your waterfront all season long.
Boston Harbor Islands Program Calendar
Head out to the Islands
Free Boston Harbor Anniversary Kites: Visit Spectacle Island on windy days this session this season and receive a free Park Anniversary kite at the Visitor Center after you arrive! Kites are limited to one per group or family unit and available while supplies last.
Self-Guided Activities
Explore Boston – A Waterfront-Wide Scavenger Hunt: Our scavenger hunts are back this season, running June through September in six waterfront locations: Charlestown, Downtown Boston, East Boston, South Boston, and Spectacle & Georges Islands. Collect three special stickers to show everyone that you've completed the Scavenger Hunt on George and Spectacle Island!
Culture & Community

Innovation Islands: In recognition of the Boston Harbor Islands National & State Park Anniversaries, the Boston Harbor Islands Partnership has awarded 12 local nonprofit micro-grants to support the development of new experiences that meet the unique needs of their community. Hop on the ferry to enjoy community-organized events on the Islands!
Recreation

HarborFit: Another year, another season of HarborFit. Local area instructors including Huan's Tai Chi of Cambridge, TRILLFIT, Linda the Wellness Warrior, Veronica Robles, and others will teach a variety of classes at Christopher Columbus Waterfront Park, Carson Beach, the Charlestown Navy Yard, Piers Park, Spectacle Island, and more! Classes include Sunset Yoga, Island Yoga, Tai Chi, Latin Dance and Fitness, Cardio Dance, and more. HarborFit is made possible by the generous support of Procter & Gamble.
Half-day Ocean Therapy Retreats: Slow down and awaken your senses on a 3-hour guided therapeutic experience in the unique urban wilderness areas of the Boston Harbor! Join Toadstool Walks to learn more about "Forest Bathing", inspired by the Japanese practice of Shinrin-yoku. Ocean Therapy Retreats run monthly, May through October from 9:00 – 12:00 pm. Sign up below:
Moakley Park Cleanups: MAKE MOAKLEY YOURS by joining Boston Harbor Now & the Boston Parks and Recreation Department for monthly cleanups at Moakley Park! Give back to your community through volunteer work and enjoy the beauty of this waterfront park while you do so!

Saturday, August 20 – 9:00 am – 11:00 am
Saturday, September 17 – 9:00 am – 11:00 am
Saturday, October 22 – 9:00 am – 11:00 am
Night Sky Camping on Peddocks Island: Grab your camping gear and join a Park Ranger for an unforgettable night sky experience in Boston Harbor! Join Boston Harbor Islands National & State Park for the return of Night Sky camping on Peddocks Island. Learn how to use a telescope, admire the cosmos, tell stories around a campfire, and enjoy an overnight excursion to the second largest island in Boston Harbor!

Friday, August 12 – 4:00 pm – Saturday, August 13 – 11:00 am
Vintage Baseball: Step back in time and watch a Civil War-era baseball game with original rules and uniforms. Arrive early to receive a special souvenir pennant!
Lighthouse Tours: Voyage through maritime history with a special three-lighthouse tour featuring close-up views of Long Island Light, Graves Light, and Boston Light – America's first light station on Fridays & Saturdays, July 1 – September 10

Fridays Sunset Tours – 5:30 pm
Saturdays – 1 pm & 3:30 pm
Music

Jazz on the Porch: Kick back and relax in one of Spectacle Island's Adirondack chairs as you take in 

harbor

 views and enjoy the sounds of talented up-and-coming bands from Berklee College of Music and Education Through Music Massachusetts. Concerts are free, but you must purchase ferry tickets: https://www.bostonharborislands.org/ferry-tickets/

Weekly on Sundays in July and August – 2:30 pm to 4:30 pm
Sounds of Fort Warren: Join us for the Sounds of Fort Warren music series that will bring a variety of music to Fort Warren to help celebrate the 25th and 50th anniversaries of the Boston Harbor Islands. Music includes:
Food & Drink

Brato on Spectacle: Enjoy delicious bites & delectable drinks during your island adventures,

available for purchase from Brato Brewhouse + Kitchen near the Visitor Center.

Fridays, Saturdays, and Sundays, June 17 – October 10 – 4:12 pm- 4:30 pm
Sunset Lobster Clam Bakes on Spectacle Island:

Enjoy Brato Brewhouse + Kitchen's take on a classic New England clambake, sip a drink, walk on the beach, enjoy lawn games, and let the ocean breeze and sunset transport you.

Hop on a Boston Harbor City Cruises ferry downtown, and in less than 30 minutes you will have a front-row seat for one of Boston's best sunset views.

Thursday, August 18 – 5:45 to 8:45 pm

Thursday, August 25 – 5:45 to 8:45 pm

Thursday, September 1 – 5:45 to 8:45 pm
Spectacle Summer Nights featuring Night Shift Brewing: Enjoy a spectacular summer night on Spectacle Island, which will stay open just a few times this season for an after-hours experience- an evening of relaxation, fun, and music in partnership with Night Shift Brewing and Brato Brewhouse & Kitchen. Visitors can sit on the porch and enjoy live music, set up a picnic dinner from Night Shift, hike with a ranger, or relax with a view.

Saturday, August 13 – 4:30 to 8:30 pm

Saturday, August 27 –

4:30 to 8:30 pm