Boston Harbor Now Applauds Launch of MBTA East Boston-Downtown Ferry Service During Upcoming Blue Line Suspension
Service provides opportunities to explore expanding ferry service to better connect Boston Harbor neighborhoods
BOSTON (April 22, 2022) – Boston Harbor Now celebrates the MBTA's decision to provide nonstop ferry service between Lewis Mall in East Boston and Long Wharf downtown as part of a scheduled suspension of Blue Line service from April 25 through May 8. The ferry service will provide Blue Line riders with an additional alternative during the shutdown and offer a faster, more joyful commute option. This service will also test a route Boston Harbor Now has advocated for as a core part of the region's permanent ferry infrastructure.
"Service closures are disruptive to riders, but this ferry service will help mitigate challenges while opening up a new transportation option to thousands of people who will likely be riding this ferry route for the first time," said Alice Brown, Chief of Planning and Policy at Boston Harbor Now. "This two-week window gives us the opportunity to test new ferry service at an affordable price and show what potential demand could look like. We offer our deep gratitude to Representative Adrian Madaro for his strong advocacy for including ferries in the MBTA's alternative service planning."
In a 2019 report, Business Plans for New Water Transportation Service, Boston Harbor Now, the Massachusetts Department of Transportation, and Massport included Lewis Mall to Long Wharf as part of a new proposed "inner harbor connector" that would dramatically expand Boston's ferry potential. The inner harbor connector would bring together Charlestown, East Boston, and the Seaport via Downtown Boston with ferry terminals at Navy Yard Pier 4, Lewis Mall, Fan Pier, and Long Wharf. This route rose to the top among 30 potential sites the partners analyzed for additional service, with the potential to serve nearly 1.6 million passengers a year.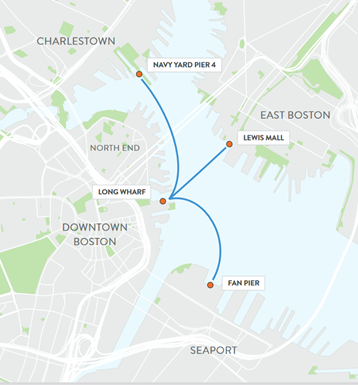 Since the report was released, the Lewis Mall dock has been expanded to accommodate ferries and currently has pilot ferry service from Fan Pier in the Seaport. The two-week Lewis Mall-Long Wharf route also serves as a beta test of ferry mitigation during the planned closure of the Sumner Tunnel in 2023.
During the upcoming two-week Blue Line closure, Boston Harbor Now hopes that riders take advantage of this direct connection across the Harbor. After decades of advocacy by residents, East Boston will have ferry service to downtown and the North End again. Passengers will only need to show a Charlie Card to board and will be able to bring bikes with them on the ferry.
---