PRESERVATION MASSACHUSETTS ANNOUNCES 2022 AWARDEES
Celebration Event Returns to Boston's Fairmont Copley Plaza on Wednesday, May 11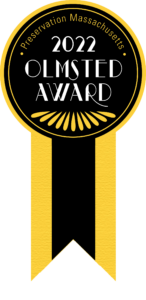 PLYMOUTH, MASS., April 1 — Preservation Massachusetts is pleased to announce the recipients of the 2022 Preservation Awards: Bringing Communities Together. A jury of preservation experts selected 19 exemplary people and projects that made significant contributions in the past year to preserving historic resources in communities from Adams to Boston. Awardees will be honored at a celebration—the first in-person event since 2019—at Boston's historic Fairmont Copley Plaza on Wednesday, May 11, 2022.
"This year's award recipients demonstrate how preservation goes beyond historic buildings and landscapes—it also includes important lessons for the future of our communities," said Erin Kelly, Executive Director of Preservation Massachusetts. "This May, we are celebrating projects and people that have encouraged collaboration among the Commonwealth's diverse communities, and we are thrilled to be gathering in person once again to honor these deserving awardees."
The 2022 Preservation Awards program is a month-long multimedia celebration that coincides with National Historic Preservation Month. One awardee will be featured each day on Preservation Massachusetts' website and social media channels throughout the month. Event sponsors receive promotional benefits as well. The festivities on the evening of May 11 begin with a 5:30pm cocktail hour, sponsored by Wessling Architects, followed by a festive celebratory reception that will conclude with the announcement of the 2022 People's Preservation Choice Award, selected by popular vote.
Since 1988, Preservation Massachusetts' highest honor, the Paul & Niki Tsongas Award, has recognized the very best in historic preservation efforts, individuals and achievements across the Commonwealth. Other awards include the Mayor Thomas M. Menino Legacy Award, for projects that embrace community partnerships; the Robert H. Kuehn, Jr. Award, for rehabilitation and active reuse projects; the Frederick Law Olmsted Award, for cultural landscapes; the Charles Eliot Award, for organizations for excellence in vision and planning; and the People's Preservation Choice Award.
The May 11 event also serves as a critical annual fundraiser for Preservation Massachusetts. Founded in 1985, this statewide non-profit organization actively promotes the preservation of historic buildings and landscapes as a positive force for economic development and the retention of community character. Preservation Massachusetts is an advocacy and education organization that works with individuals and organizations striving to make an economic impact, create jobs, and enhance our collective quality of life through preservation. Visit www.preservationmass.org/awards for more information.
2022 Preservation Award Winners
Paul & Niki Tsongas Award
Recognizing people and projects that have displayed the highest level of commitment to
historic preservation in the Commonwealth.
●      The Archer Residences, Beacon Hill, Boston
●      The Langham, Boston
●      Houghton Library, Harvard University, Cambridge
●      Knitting Mill Apartments, Fall River
●      Sears Building, Greenfield
●      Jo Ellen Hensley, National Park Service
●      Jim Donahue, Old Sturbridge Village
●      Mason Square Apartments at Indian Motorcycle, Springfield
●      Courthouse Lofts, Worcester
Mayor Thomas M. Menino Legacy Award
Recognizing preservation projects that are transformative, catalytic, embrace the community, create partnerships and revitalize the best of the past to make something good for the future.
●      Building 16 at 25 Fid Kennedy Ave., Boston
●      College of Fine Arts (H.K. Noyes & Sons Buick), Boston University, Boston
●      Boston Public Library, Roslindale Branch
●      Residences at Wells School, Southbridge
●      Taunton City Hall
Robert H. Kuehn Award
Recognizing extraordinary projects that meld collaborative partnerships with creative and cutting-edge ideas for the rehabilitation and active reuse of historic buildings.
●      Mausert Block, Adams
●      Charles River Speedway, Boston
●      Swartz Hall, Harvard Divinity School, Cambridge
Frederick Law Olmsted Award
Recognizing dedication to the promotion and protection of our cultural and historic landscapes.
●      Boston Harbor Now
Charles Eliot Award
Recognizing organizations with exceptional vision and excellence in planning for preservation.
●      The Public Archaeology Laboratory, Inc.
For information on awardees, the May 11 event, sponsorship, or tickets, visit www.preservationmass.org/awards.
###
CONTACT:
Preservation Massachusetts, Inc.
Julie Roper, Development & Communication Manager
(617) 938-8879, jroper@preservationmass.org
RELEASE DATE:
April 1, 2022
---