The holiday season is upon us once again, which means New Year's Eve on the Boston Waterfront is back! Our beloved Ice Sculpture Stroll returns for the 10th year and will be the biggest stroll we have ever hosted, featuring more than 30 gorgeous ice sculptures crafted from our network of talented ice-carving artists.
This year we will also feature nine new locations that expand the stroll further throughout the Greater Boston waterfront area, including South Boston Maritime Park, Constitution Wharf, Lovejoy Wharf, and even as far north as Revere Beach!
The Ice Sculpture Stroll will take place on December 31st from 1:00 pm to dusk. It's a free event, so gather your friends and family, bundle up, and enjoy a beautiful stroll throughout our beloved Waterfront neighborhood.
With so many beautiful ice sculptures to see, we have some helpful tips to share so you can make the most of your time!
1. How to get to the Ice Sculpture Stroll
Most of our ice sculptures are located close to public transportation locations, making the T the easiest way to get to most of the locations. Visit Courthouse (Silver Line), Aquarium (Blue Line), Maverick (Blue Line), Haymarket (Green / Orange Lines), or South Station (Red Line) for a short walk to ice sculptures and the Boston Harborwalk. Check out the MBTA website for service information to plan your visit.
2. Where to park
But if you have to drive, there are several garages that are conveniently located.
3. How to find all the Ice Sculptures
With more than 30 ice sculptures to see, Boston Harbor Now has created an interactive map to help you find them all and guide you through your stroll. The interactive map can easily help you map out your path to best fit your schedule!
4. Dress in layers
It's New England, so the weather conditions can change throughout the day, from cold to warm and vice versa. We recommend wearing layers so you adapt to the weather throughout your stroll. With so many ice sculptures to choose from, make sure to bundle up! Wear additional layers to maximize your time outdoors. 
5. Where to warm up
It's winter, so it could get quite chilly, but don't let that stop your fun. There will be several areas to warm up and even get a little food and drink fuel throughout the stroll. Guests can enjoy hot chocolate provided by L.L. Bean and The Envoy Hotel starting at 11:00 am. 
If you want something a little more filling than a snack, there are many great local restaurants to stop at for a bite to eat during the stroll. To check where the closest warm-up area is, visit: https://www.bostonharborwalk.org/.
6. Where to start
You could begin your stroll at any ice sculpture location, but if you want to see them all, you should be a bit strategic with your path. Choose between three different intensity levels to find the Ice Sculpture Stroll route that best fits your schedule!
Easy

: If you start in the Seaport District at the South Boston Maritime Park and head toward Martin's Park, you will be able to see 12 sculptures located in the Seaport area! This walk will take you less than an hour so it's perfect for families with small children.

Medium

: Start in Charlestown and head towards Lovejoy Wharf, Battery Wharf, and Constitution Wharf. This path will take you around 2 hours to see the majority of the ice sculptures located on the Boston Waterfront.

Expert

: Start in Revere and make it your goal to see every ice sculpture! Spend the whole day visiting every ice sculpture location and end your journey relaxing at the fireworks celebration.
7. Enjoy the other holiday-themed activities along the Stroll route.
A good option to break up the ice sculptures, especially if you're bringing little ones, is to build stops into your schedule to enjoy the other activities set up along the stroll route.
Holiday Lights on the Trellis at Christopher Columbus Waterfront Park, Ship Lights at Martin's Park, Winter Optics lights exhibit on the Rose Kennedy Greenway, and Snowport, the Seaport's much-loved winter village, are all easy stops to make along the way.
8. End your night with our New Years' Eve Midnight Firework Celebration! 
After spending your day strolling through the Waterfront, end your night with our New Years' Eve Midnight Firework Celebration. The fireworks will take place over the inner Boston Harbor between the North End and East Boston neighborhoods of the city. Bring your warm clothes and ring in the new year with a beautiful fireworks display with family and friends. There are several great viewing spots, including Harborwalk at Fan Pier Park, Christopher Columbus Park, and East Boston's waterfront!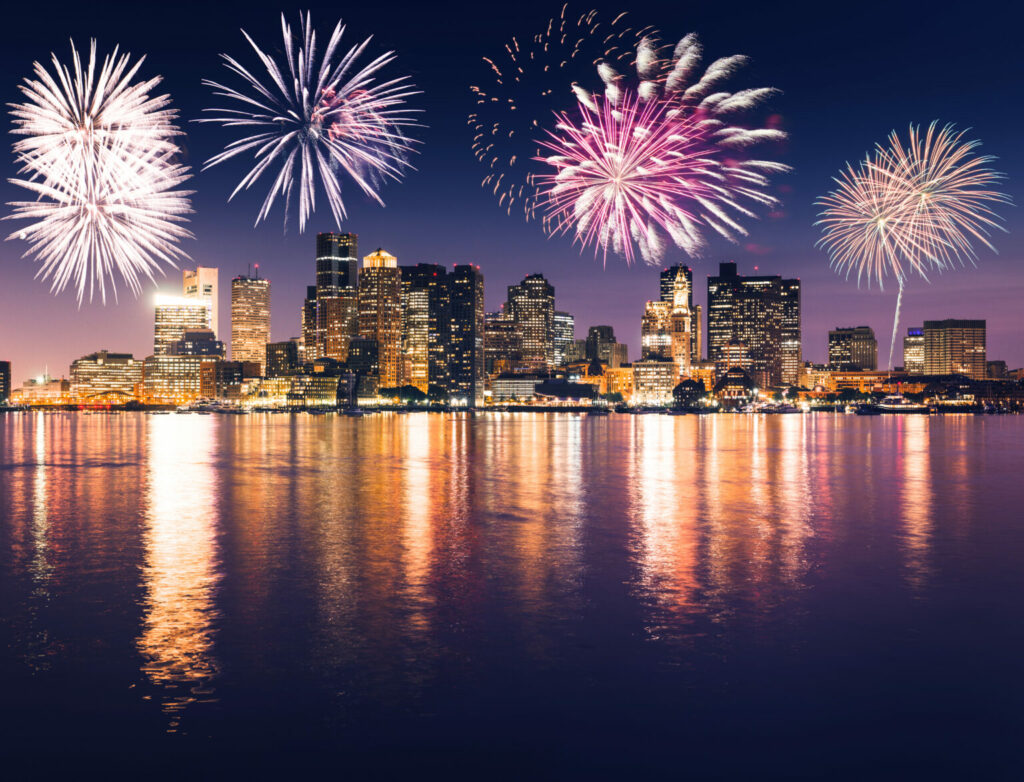 Sign up if you would like future updates about the Waterfront Ice sculptures scrolls and NYE Fireworks!
---