Boston Harbor and its Islands are still ideal destinations for exploration and recreation during the colder winter months. As an ever-transforming landscape, the eventual seasonal snowfall will blanket the waterfront and reveal breathtaking vistas primed for capturing lifelong memories in. The magic of these moments is in the ephemerality of these experiences –the Islands becoming a peaceful sanctuary for a wide variety of wildlife that calls the Islands home, our harbor's shorelines icy and blanketed with nature's wintery palette, and the many historic sites coated in the morning frost, feeling even more frozen in time. 
We're hearty New Englanders, used to the cold and snow, so despite the weather, winter is a great time to get outside and explore. The Boston Harbor area and its Islands come to life during the winter season with unique opportunities for visitors to experience something new and exciting. From wildlife excursions to educational lecture series and art exhibits, the Boston Harbor Now team has collaborated with our network of community partners to create a variety of events that are perfect for every outdoor-loving person looking for activities during the slower winter months. 
Here's a list of the many winter activities happening on the harbor, Islands, and waterfront, matching each to the type of person who would most enjoy each. So bundle up, board the cozy (heated) ferries, and prepare for winter fun all season long!
For Animal Lovers: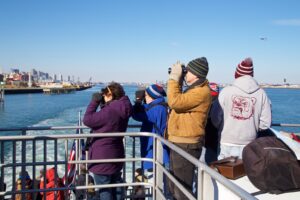 Winter Wildlife Cruise
Calling all wildlife lovers! Observe the beauty of the wildlife that makes its wintertime home in Boston Harbor with our Winter Wildlife Cruise. Embark on a 3-hour cruise that will showcase
 the lively Boston Harbor Islands and their inhabitants during the winter season. Get ready to witness wildlife up close with help from our naturalists, including staff from the National Park Service.
This event is perfect for bird watchers, wildlife photographers, and people who enjoy winter sightseeing! The Winter Wildlife Cruise will take place Saturday, January 21, 2023, from 12:00 – 3:00 pm. 
Click here to register. 
For Casual Hikers:
Winter Wander
If you are fond of hiking through a picturesque winter wonderland, then the Winter Wander event is perfect for you. Thanks to our partners, the National Park Service and the Department of  Conservation and Recreation, this event allows visitors to, as the name implies, wander the trails of Peddocks Island at their own leisure on self-guided hikes. Take in the sights and sounds of Peddocks, discover wildlife, or enjoy an island-side bonfire. Winter Wander is perfect for people who want to get away from the city and enjoy a peaceful day surrounded by nature.
                
For Families:
Winter Warmer at Moakley Park
For more of a family-centric outdoor adventure this winter, join us for the Winter Warmer at Moakley Park. Visitors can enjoy warm drinks, yummy snacks, games, crafts, dance, and music by A Trike Called Funk, and more, all while enjoying the sights and sounds of Moakley Park. Connect with your local community around a fire while enjoying the outdoors. This event is perfect for families with children looking to get outside and have some winter fun. 
Click here to RSVP for this free event.
For History Buffs

:
Revolutionary Harbor Lecture Series
Looking to learn more about the Boston Harbor and its Islands from the comfort of your home? Then our Revolutionary Harbor Lecture Series is your perfect winter program. Join us for a free virtual lecture series presented by the National Parks of Boston.
Revolutionary Harbor: Environmental Justice & the Boston Harbor Islands 
Wednesday, February 15, 2023 | 6:30 PM – 8:00 PM
Join Melanie Gárate from the Stone Living Lab and Boston's National Park Service for an evening of learning about the historic and contemporary significance of environmental justice and its various intersections with the Boston Harbor Islands and discover how communities have engaged with the islands through a lens of reciprocity and communal use, while others have seen it as a source of boundless resources that can be taken advantage of. 
Boston's Black Heritage Trail 
Learn something new about Boston on the Black Heritage Trail Walk. The Black Heritage Trail runs through the Beacon Hill area. The interactive walk showcases residences and community buildings associated with the Black community that shaped Beacon Hill before, during, and after the American Civil War. Some of the buildings featured on the trail walk include the Abiel Smith School and the African Meeting House. 
Click here to learn more about Boston's Black Heritage Trail.
Photo Credit: National Park Service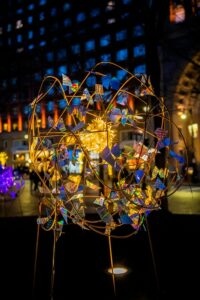 For Art Lovers:
Winter Optics: Light on the Greenway
Watch the Greenway come to life at night with colorful lights at Winter Optics. With help from the Greenway Conservancy, a series of light installations will brighten up various areas along the Greenway for visitors to view as they walk through the park. Winter Optics is a perfect place for a winter photo op or for a casual stroll with family and friends filled with beautiful art.
Click here to learn more about Winter Optics: Light on the Greenway.
For Fitness Fanatics:
Winter Harbor Walks/Runs
Is movement one of your resolutions for 2023? Start your new resolution off right with a self-guided walk, jog, or run along Boston's Waterfront! Many routes throughout the Harbor Walk will take you past some of the best museums, restaurants, and sights Boston has to offer. An interactive map presented by Bundle Up Boston is available online, so you can plan your map around the sights you want to see!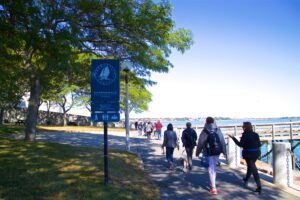 Need suggestions? Here are our recommended routes around the harbor to get outside and get moving.
Boston Harbor Now and our community partners have a variety of other winter programs for visitors to enjoy throughout to season. To learn more about Winter on the Waterfront programs presented by Boston Harbor Now, visit https://www.bostonharbornow.org/winter/.
---