This fall Boston Harbor Now is excited to celebrate the 35th Anniversary of the Boston Harborwalk.
In honor of all the paths that have been completed and/or improved along the waterfront since the BRA established the "Harbor Park" in October 1984, we are leading a series of events to celebrate the last three and half decades of the Harborwalk.
Join us for adventurous walks along the existing and proposed Harborwalk over the month of October along with a panel discussion about the past and future of the waterfront with expert guests:
Walk the [walk]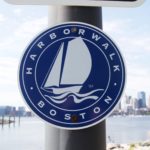 Walk the length of the Boston Harborwalk
Join us for a fun trek down the full length of the Boston Harborwalk as they weave along the edge of various waterfront neighborhoods. Come explore what makes each section unique and evocative of their communities and shorelines. Enjoy light refreshments at the beginning and end of each leg of the walk and limited edition Harborwalk swag items.
[walk]one: October 5, 2019 – Dorchester – South Boston Waterfront
[walk]two: October 12, 2019 – South Boston Waterfront – Fan Pier

register here (coming soon)
[walk]three: October 19, 2019 – Fort Point Channel – Downtown – North End
[walk]four: October 26, 2019 – Charlestown – East Boston

register here (coming soon)
Join us for all four walks in this series! Sign up for this event and add additional events in the series for just $15 each. Discount information is provided in your confirmation e-mail.
If the cost of this walk is a barrier to your participation, please contact us at info@bostonharbornow.org.
Talk the [walk]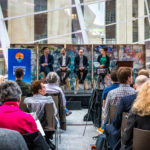 Attend panel discussion about the future of waterfront public access
Boston Harbor Speaker Series October 24, 2019
register here  FREE  (coming soon)